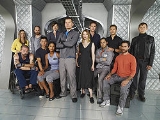 Virtuality (TV series)
Virtuality
is a
television pilot
Television pilot
A "television pilot" is a standalone episode of a television series that is used to sell the show to a television network. At the time of its inception, the pilot is meant to be the "testing ground" to see if a series will be possibly desired and successful and therefore a test episode of an...
co-written by
Ronald D. Moore
Ronald D. Moore
Ronald Dowl Moore is an American screenwriter and television producer best known for his work on Star Trek and the re-imagined Battlestar Galactica miniseries and television series, for which he won a Peabody Award for creative excellence in 2005 and an Emmy Award in 2008.-Early life and...
and
Michael Taylor
Michael Taylor (screenwriter)
Michael Taylor is best known for his work as a writer for both Star Trek: Deep Space Nine and Star Trek: Voyager. His DS9 credits include the celebrated episode "The Visitor", "Things Past", "Resurrection" and "In the Pale Moonlight", which was controversial for challenging some of Star Trek's...
and directed by
Peter Berg
Peter Berg
Peter Berg is an American actor, film director, producer and writer. He is known for directing films such as Friday Night Lights, The Kingdom, The Rundown, Hancock and Battleship. He also developed the television series Friday Night Lights, which was adapted from the film he directed. As an actor...
that aired on the
Fox
Fox Broadcasting Company
Fox Broadcasting Company, commonly referred to as Fox Network or simply Fox , is an American commercial broadcasting television network owned by Fox Entertainment Group, part of Rupert Murdoch's News Corporation. Launched on October 9, 1986, Fox was the highest-rated broadcast network in the...
network. Since the show was never picked up as a television series, the two-hour pilot episode aired as a movie on June 26, 2009.
Plot
The story is set aboard the Phaeton, Earth's first starship, on a ten-year journey to explore the nearby
Epsilon Eridani
Epsilon Eridani
Epsilon Eridani is a star in the southern constellation Eridanus, along a declination 9.46° south of the celestial equator. This allows the star to be viewed from most of the Earth's surface. At a distance of 10.5 light years , it has an apparent magnitude of 3.73...
star system. In order to help the 12-person crew endure the long mission, a system of
virtual reality
Virtual reality
Virtual reality , also known as virtuality, is a term that applies to computer-simulated environments that can simulate physical presence in places in the real world, as well as in imaginary worlds...
modules are installed aboard the ship. These modules, which are worn like glasses and suppress real-world body movement, allow the crew to assume various identities and enjoy a variety of adventures. The crew's experiences aboard the ship are broadcast back to Earth as Fox's
reality television
Reality television
Reality television is a genre of television programming that presents purportedly unscripted dramatic or humorous situations, documents actual events, and usually features ordinary people instead of professional actors, sometimes in a contest or other situation where a prize is awarded...
program Edge of Never: Life on the Phaeton.
The pilot picks up approximately six months after the launch of Phaeton. The crew now faces a "go or no-go" situation, in that they are fast approaching their last chance to change course back towards Earth. However, their home planet is quickly becoming uninhabitable, with dry land becoming a commodity. Scientists estimate that the planet will become completely inhospitable within the next hundred years. The Phaetons priority mission has been changed to that of searching out and discovering a new planet for humans to inhabit.
Unfortunately, as the crew fast approaches their point of no return beyond the planet Neptune, several problems arise. Dr. Adin Meyer, the crew's only physician, becomes aware that he is in the early stages of
Parkinson's disease
Parkinson's disease
Parkinson's disease is a degenerative disorder of the central nervous system...
. Via use of the Phaeton's virtual reality programs, Commander Frank Pike has begun a sexual relationship with botanist Rika Goddard, whose husband, psychologist Dr. Roger Fallon, is also a part of the crew, the mission psychologist and producer of Edge of Never.
Meanwhile, the crew's virtual reality simulators have been experiencing several bizarre glitches, all of which involve a mysterious man, whose acts against the crew inside the virtual simulations become more and more disturbing, including "murdering" Pike during a
Civil War
American Civil War
The American Civil War was a civil war fought in the United States of America. In response to the election of Abraham Lincoln as President of the United States, 11 southern slave states declared their secession from the United States and formed the Confederate States of America ; the other 25...
re-enactment and "killing" Meyer by pushing him off a cliff. Despite the hardships, the crew unanimously decides to continue on with the 10-year voyage.
In one virtual simulation of a Japanese rock concert, the lead singer sings the TV theme of
The Munsters
The Munsters
The Munsters is a 1960s American family television sitcom depicting the home life of a family of monsters. It starred Fred Gwynne as Herman Munster and Yvonne De Carlo as his wife, Lily Munster. The series was a satire of both traditional monster movies and popular family entertainment of the era,...
in Japanese. There are several homages to
2001: A Space Odyssey
2001: A Space Odyssey (film)
2001: A Space Odyssey is a 1968 epic science fiction film produced and directed by Stanley Kubrick, and co-written by Kubrick and Arthur C. Clarke, partially inspired by Clarke's short story The Sentinel...
: the computer appears to have utter control and is communicating with Mission Control or the producers, the choice of the name "Frank", the circular nature of the ship, Pike's effervescence about the spiritual wonder of space, and finally, the blame on the computer for the airlock mystery, very similar to the plight of Frank in 2001.
After Billie Kashmiri, the new host of Edge of Never, is beaten and raped by the mystery man within the virtual world, the crew considers discontinuing use of the virtual reality programs, possibly for the remainder of the voyage. Now past their "point of no return", the crew faces the prospect of continuing on for an entire decade within the confines of the Phaeton without a virtual world for comfort.
The communications array fails to deploy, and after Dr. Jules Braun (designer of most of the Phaeton 's systems) tries everything that he can from inside the ship, Pike, Rika, Val Orlovsky and Manny Rodriguez prepare to identify the problem from the outside. However, while preparing for
EVA
Extra-vehicular activity
Extra-vehicular activity is work done by an astronaut away from the Earth, and outside of a spacecraft. The term most commonly applies to an EVA made outside a craft orbiting Earth , but also applies to an EVA made on the surface of the Moon...
, the airlock chamber closes by itself, with Pike inside and without his pressure suit helmet. Despite efforts to save him, the airlock opens and Pike is killed. His death leaves the crew in shambles. Braun, however, believes Pike's death was murder, and does not know who to trust. The Phaeton 's drive engineer and second in command, Dr. Jimmy Johnson, unwillingly assumes command, foreseeing conflict with the crew as he is a somewhat abrasive loner. While going over the ship's recording of Pike's death, Fallon discovers Pike's last confession of love to Rika.
Rika finds Pike's virtual reality headset in her quarters, and when she wears it, she finds herself in Pike's favorite simulation: a tactical military command of the Civil War era. Inside the simulation, she encounters what appears to be a simulation of Pike that tells her, "None of this is real," and only by following him "through the looking-glass and down the rabbit hole" will she learn the truth. He rides off on horseback into the virtual sunset, with Rika crying out Pike's name in desperation.
The closing credits honor Nora O'Brien, an
NBC Universal
NBC Universal
NBCUniversal Media, LLC is a media and entertainment company engaged in the production and marketing of entertainment, news, and information products and services to a global customer base...
executive, who died in May 2009 of a cerebral aneurysm at the age of 44.
Cast and characters
Nikolaj Coster-Waldau as Commander Frank Pike
Kerry Bishé

Kerry Bishé

Kerry Bishé , is an American actress, best known for playing Lucy Bennett, the main character in season nine of medical comedy Scrubs...


as Billie Kashmiri – computer scientist

Computer scientist

A computer scientist is a scientist who has acquired knowledge of computer science, the study of the theoretical foundations of information and computation and their application in computer systems....


, reality show host
Joy Bryant

Joy Bryant

Joy Bryant is an American actress and former fashion model. Joy currently stars as Jasmine Trussell in Parenthood-Early life:...


as Alice Thibadeau – astrobiologist
Jose Pablo Cantillo

Jose Pablo Cantillo

Jose Pablo Cantillo is an American actor of Costa Rican descent.Jose Pablo Cantillo grew up in Terre Haute, Indiana, and attended Terre Haute South Vigo High School where he was a tennis standout for all 4 years, leading the Terre Haute South Braves to a State Runner-Up finish in 1996...


as Manny Rodriguez – astrophysicist
Ritchie Coster

Ritchie Coster

Ritchie Coster is an English film, television and theatre actor. Coster was born in London, England and attended The Latymer School, Edmonton...


as Dr. Jimmy Johnson – pulse drive engineer, second-in-command
James D'Arcy

James D'Arcy

-Early life:James D'Arcy was born as Simon D'Arcy and grew up in Fulham, London, with his mother, Caroline and his younger sister Charlotte. His father died when he was young. After completing his education at Christ's Hospital in 1991, he went to Australia for a year and worked in the drama...


as Dr. Roger Fallon – psych officer, reality show producer
Clea DuVall

Clea DuVall

Clea Helen D'Etienne DuVall is an American actress. She is best known for her role as Sofie on the television series Carnivàle as well as for films such as The Faculty , Girl, Interrupted and The Grudge .-Early life:DuVall was born in Los Angeles, California, the only child of Rosemary and...


as Sue Parsons – pilot, flight systems engineer
Gene Farber as Val Orlovsky – geologist

Geologist

A geologist is a scientist who studies the solid and liquid matter that constitutes the Earth as well as the processes and history that has shaped it. Geologists usually engage in studying geology. Geologists, studying more of an applied science than a theoretical one, must approach Geology using...



Sienna Guillory

Sienna Guillory

Sienna Tiggy Guillory is an English actress, and former model. She is known for playing the title role in the TV miniseries, Helen of Troy, her portrayal of Jill Valentine in the science fiction action horror film Resident Evil: Apocalypse, and as elf princess Arya Dröttningu in fantasy-adventure...


as Rika Goddard – botanist, microbial exobiologist
Erik Jensen as Dr. Jules Braun – navigator

Navigator

A navigator is the person on board a ship or aircraft responsible for its navigation. The navigator's primary responsibility is to be aware of ship or aircraft position at all times. Responsibilities include planning the journey, advising the Captain or aircraft Commander of estimated timing to...


, Phaeton designer
Nelson Lee

Nelson Lee

Nelson Lee is a Taiwanese born Canadian actor who co-starred in the only season of Blade: The Series as Shen, Blade's sidekick and technical support. He also starred in Oz , as inmate Li Chen, and in some episodes of Law & Order.-Selected filmography:-External links:* *...


as Kenji Yamamoto – astrobiologist
Omar Metwally

Omar Metwally

Omar Metwally is an American actor.Metwally was born in Queens, New York to an Egyptian father and a Dutch mother, and moved with the family to Orange County, California at age three where he was raised...


as Dr. Adin Meyer – medical officer
Jimmi Simpson

Jimmi Simpson

James Raymond "Jimmi" Simpson is an American actor. He has had recurring roles on the television shows 24, It's Always Sunny in Philadelphia, Psych, My Name Is Earl, CSI: Crime Scene Investigation and The Late Show with David Letterman...


as Virtual Man
Kari Wahlgren

Kari Wahlgren

Kari K. Wahlgren is an American voice actress who has provided English language voices for dozens of anime titles and video games. Her debut role was as one of the main characters of FLCL, Haruko Haruhara. She had a live-action role as Tinker Bell in the 2003 Damion Dietz film Neverland...


as Jean (voice)
TV series campaign
Virtuality was filmed as a pilot but aired as a movie when Fox failed to pick up the series. On Friday June 26, 2009 Jessica Blank, wife of actor Erik Jensen who portrayed Dr. Jules Braun, posted a call to action on her husband's
Facebook
Facebook
Facebook is a social networking service and website launched in February 2004, operated and privately owned by Facebook, Inc. , Facebook has more than 800 million active users. Users must register before using the site, after which they may create a personal profile, add other users as...
page urging people to watch the movie and write in support of more episodes.
DVD release
Virtuality was first released on DVD on October 27, 2009 in the United States, exclusively through
Best Buy
Best Buy
Best Buy Co., Inc. is an American specialty retailer of consumer electronics in the United States, accounting for 19% of the market. It also operates in Mexico, Canada & China. The company's subsidiaries include Geek Squad, CinemaNow, Magnolia Audio Video, Pacific Sales, and, in Canada operates...
. The DVD then had a full release on May 4, 2010.
External links