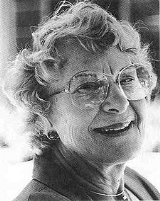 Virginia Satir
Virginia Satir
was an
American
United States
The United States of America is a federal constitutional republic comprising fifty states and a federal district...
author and
psychotherapist
Psychotherapy
Psychotherapy is a general term referring to any form of therapeutic interaction or treatment contracted between a trained professional and a client or patient; family, couple or group...
, known especially for her approach to
family therapy
Family therapy
Family therapy, also referred to as couple and family therapy, family systems therapy, and family counseling, is a branch of psychotherapy that works with families and couples in intimate relationships to nurture change and development. It tends to view change in terms of the systems of...
and her work with
Systemic Constellations
Systemic Constellations
The Systemic Constellation process is a trans-generational, phenomenological, therapeutic intervention with roots in family systems therapy , existential-phenomenology , and the ancestor reverence of the South African Zulus...
. She is widely regarded as the "Mother of Family Therapy"Her most well-known books are
Conjoint Family Therapy
, 1964,
Peoplemaking
, 1972, and
The New Peoplemaking
, 1988.
She is also known for creating the Virginia Satir Change Process Model, a psychological model which was developed through clinical studies.
Why Family Therapy...because it deals with family pain.

Conjoint Family Therapy: A Guide to theory and technique (1967)

A growing body of clinical observation has pointed to the conclusion that the family therapy must be oriented to the family as a whole.

Conjoint Family Therapy: A Guide to theory and technique (1967)

To all my friends, colleagues and family: I send you love. Please support me in my passage to a new life. I have no other way to thank you than this. You have all played a significant part in my development of loving. As a result, my life has been rich and full, so I leave feeling very grateful.

Brief biography at Avanta.net (1999)