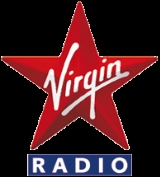 Virgin Radio Italia
Virgin Radio Italia
is a
music-based
Music radio
Music radio is a radio format in which music is the main broadcast content. After television replaced old time radio's dramatic content, music formats became dominant in many countries...
Italian radio station, which started nationwide broadcasting on 12 July 2007 at 12:00 AM (with the song
What a Wonderful World
What a Wonderful World
"What a Wonderful World" is a song written by Bob Thiele and George David Weiss. It was first recorded by Louis Armstrong and released as a single in 1968. Thiele and Weiss were both prominent in the music world . Armstrong's recording was inducted in the Grammy Hall of Fame in 1999...
by
Joey Ramone
Joey Ramone
Joey Ramone was an American vocalist and songwriter, best known as the lead vocalist in the punk rock band the Ramones. Joey Ramone's image, voice and tenure as frontman of the Ramones made him a countercultural icon.-Early life:Joey Ramone was born Jeffry Hyman to parents Noel and Charlotte Hyman...
). It is owned by a joint-venture between
Gruppo Finelco
RCS MediaGroup
RCS MediaGroup S.p.A. , based in Milan and listed on the Italian Stock Exchange, is an international multimedia publishing group that operates in daily newspapers, magazines and books, radio broadcasting, new media and digital and satellite TV...
and
Virgin Group
Virgin Group
Virgin Group Limited is a British branded venture capital conglomerate organisation founded by business tycoon Richard Branson. The core business areas are travel, entertainment and lifestyle. Virgin Group's date of incorporation is listed as 1989 by Companies House, who class it as a holding...
and the programming consists of
rock music
Rock music
Rock music is a genre of popular music that developed during and after the 1960s, particularly in the United Kingdom and the United States. It has its roots in 1940s and 1950s rock and roll, itself heavily influenced by rhythm and blues and country music...
(
rockabilly
Rockabilly
Rockabilly is one of the earliest styles of rock and roll music, dating to the early 1950s.The term rockabilly is a portmanteau of rock and hillbilly, the latter a reference to the country music that contributed strongly to the style's development...
,
hard rock
Hard rock
Hard rock is a loosely defined genre of rock music which has its earliest roots in mid-1960s garage rock, blues rock and psychedelic rock...
,
punk rock
Punk rock
Punk rock is a rock music genre that developed between 1974 and 1976 in the United States, the United Kingdom, and Australia. Rooted in garage rock and other forms of what is now known as protopunk music, punk rock bands eschewed perceived excesses of mainstream 1970s rock...
,
rock and roll
Rock and roll
Rock and roll is a genre of popular music that originated and evolved in the United States during the late 1940s and early 1950s, primarily from a combination of African American blues, country, jazz, and gospel music...
and more).
Virgin Radio TV
Virgin Radio TV
is an Italian
music television channel
Music television
Music television is a type of television programming which focuses predominantly on playing music videos from bands, usually on dedicated television channels broadcasting on satellite or cable. Music TVs may host their own shows charts, award prizes. Examples are VIVA, Scuzz, MTV, JBTV, MuchMusic,...
, launched on 30 November 2010. Freely available on selected local digital terrestrial television networks in Italy and on
Hotbird 8
Hot Bird
Hot Bird is the name of a popular family of satellites operated by Eutelsat, located at 13°E over the Equator and with a transmitting footprint over Europe, North Africa and the Middle East....
, feature a separate programming and music playlist from his radio counterpart.
External links