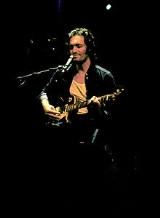 Vincent Gallo
Vincent Gallo
is an Italian-American
film director
Film director
A film director is a person who directs the actors and film crew in filmmaking. They control a film's artistic and dramatic nathan roach, while guiding the technical crew and actors.-Responsibilities:...
and actor. Though he has had minor roles in mainstream films such as
Goodfellas
Goodfellas
Goodfellas is a 1990 American crime film directed by Martin Scorsese. It is a film adaptation of the 1986 non-fiction book Wiseguy by Nicholas Pileggi, who co-wrote the screenplay with Scorsese...
, he is most associated with
independent movies
Independent film
An independent film, or indie film, is a professional film production resulting in a feature film that is produced mostly or completely outside of the major film studio system. In addition to being produced and distributed by independent entertainment companies, independent films are also produced...
, including
Buffalo '66
, which he wrote, directed, did the music for and starred in;
The Brown Bunny
The Brown Bunny
The Brown Bunny is a 2003 independent American art house film written, produced and directed by actor Vincent Gallo about a motorcycle racer on a cross-country drive who is haunted by memories of his former lover. The film had its world premiere at the 2003 Cannes Film Festival to boos and catcalls...
, which he also wrote, directed, produced, starred in and photographed;
Arizona Dream
Arizona Dream
Arizona Dream is a 1993 film directed by Emir Kusturica and starring Johnny Depp, Jerry Lewis and Faye Dunaway.-Plot:Axel has a dream about an Eskimo who catches a rare halibut and brings it back to his family in an igloo...
;
The Funeral
The Funeral (1996 film)
The Funeral is a 1996 American crime-drama film directed by Abel Ferrara and starring Christopher Walken, Chris Penn, Annabella Sciorra, Isabella Rossellini, Vincent Gallo, Benicio del Toro and Gretchen Mol....
; and
Palookaville
Palookaville (film)
Palookaville is a 1995 motion picture about a pair of trio burglars and their dysfunctional family of origin. Prominent actors featured in the film include William Forsythe, Lisa Gay Hamilton, Vincent Gallo, Adam Trese and Frances McDormand...
. In the late 1970s and early 1980s, Gallo was a painter in the New York City art scene showing with famed art dealer Annina Nosei, performed in a
rap
Hip hop music
Hip hop music, also called hip-hop, rap music or hip-hop music, is a musical genre consisting of a stylized rhythmic music that commonly accompanies rapping, a rhythmic and rhyming speech that is chanted...
duo and was part of the first hip hop television broadcast
Graffiti Rock
Graffiti rock
Graffiti Rock was a hip-hop based television program, originally screened June 29, 1984. Intended as an on-going series, the show only received one pilot episode and aired on WPIX channel 11 in New York City and a few other markets...
, and played in an industrial band called Bohack which released an album title
It Took Several Wives
.
Art must be radical, art must upset people as much as possible. I am radical and obviously I suffer consequence. But I think that only this can lead to the evolution of the human kind.

Art must be deep and pregnant, art can't be for all, popular art is just nonsensical. I am an artist, and art applies to people like me, interesting and convoluted people. But our society tends and the more will tend in the opposite direction, that is to make everything available for everybody and always. Art will be more and more reproducible and more and more accessible.

To get what I wanted, or to do the things that I wanted to do, or to have impact, I had to be very clever and part of being very clever requires a kind of creative language so I was always willing to do it that way. But I've also done it in other ways; through revenge; through violence; through salesmanship; through hard work; through building; through working with my hands. I'm not a young poet. I'm a working person.

My creativity is always motivated by what's missing, the same way it comes from what's broken, what needs to be cleaned, what needs to be prepared because I don't have it. It always comes from loss or from the seed of something that needs to be protected and grown.

I believe that profound vision is when a leader takes you somewhere where you don't want to go because it's an unknown place, it's an unknown ideal. If the Beatles knew what they would do in 1969 in 1964, they would have done it in 1964. They could never have imagined that. And a profound visionary is someone who can, not completely imagine that, but whose thoughts lead to that. And you can never communicate profound vision to the mainstream, so I'm an elitist on that level.