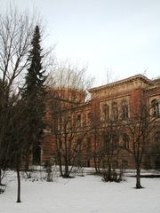 Vienna Observatory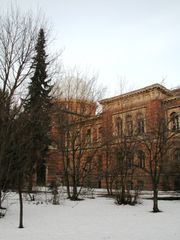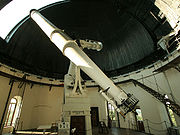 Universitäts-Sternwarte Wien
(
Vienna Observatory
) is an
astronomical
Astronomy
Astronomy is a natural science that deals with the study of celestial objects and phenomena that originate outside the atmosphere of Earth...
observatory
Observatory
An observatory is a location used for observing terrestrial or celestial events. Astronomy, climatology/meteorology, geology, oceanography and volcanology are examples of disciplines for which observatories have been constructed...
in
Vienna
Vienna
Vienna is the capital and largest city of the Republic of Austria and one of the nine states of Austria. Vienna is Austria's primary city, with a population of about 1.723 million , and is by far the largest city in Austria, as well as its cultural, economic, and political centre...
,
Austria
Austria
Austria , officially the Republic of Austria , is a landlocked country of roughly 8.4 million people in Central Europe. It is bordered by the Czech Republic and Germany to the north, Slovakia and Hungary to the east, Slovenia and Italy to the south, and Switzerland and Liechtenstein to the...
. It is part of the
University of Vienna
University of Vienna
The University of Vienna is a public university located in Vienna, Austria. It was founded by Duke Rudolph IV in 1365 and is the oldest university in the German-speaking world...
. The first observatory was built in 1753–1754 on the roof of one of the university buildings.
A new observatory was built between 1874 and 1879, and was finally inaugurated by Emperor
Franz Joseph I of Austria
Franz Joseph I of Austria
Franz Joseph I or Francis Joseph I was Emperor of Austria, King of Bohemia, King of Croatia, Apostolic King of Hungary, King of Galicia and Lodomeria and Grand Duke of Cracow from 1848 until his death in 1916.In the December of 1848, Emperor Ferdinand I of Austria abdicated the throne as part of...
in 1883. The main dome houses a refractor with a diameter of 68 centimetres (26.8 in) and a focal length of 10.5 metres (34.4 ft) built by the Grubb Telescope Company. At that time, it was the world's largest refracting telescope.
Directors
Maximilian Hell

Maximilian Hell

Maximilian Hell, S.J. was a Hungarian astronomer and an ordained Jesuit priest from the Kingdom of Hungary.- Biography :...


, 1756–1792
Franz de Paula Triesnecker

Franz de Paula Triesnecker

Franz de Paula Triesnecker was an Austrian Jesuit astronomer.Triesnecker was born in Mallon, Kirchberg, Austria. When he was 16 he joined the Society of Jesus. He studied philosophy in Vienna and mathematics at Tyrnau, then became a teacher. Following the suppression of the Jesuits in 1773, he...


, 1792–1817
Johann Josef von Littrow, 1819–1840
Karl Ludwig von Littrow, 1842–1877
Edmund Weiss

Edmund Weiss

Edmund Weiß was an Austrian astronomer.He was born in Frývaldov, Austrian Silesia, now Jeseník, Czech Silesia. In 1869 he became a professor at the University of Vienna. He was named the director of the Vienna observatory in 1878...


, 1877–1908
Kasimir Graff

Kasimir Graff

Kasimir Romuald Graff was a German astronomer. He worked as an assistant at the Hamburg Observatory and became a professor at Hamburg in 1916. In 1928 he became director of the Vienna Observatory, Austria. When the Nazi government took over in Austria in 1938, he was forced to retire...


, 1928–1938
Bruno Thüring

Bruno Thüring

Bruno Jakob Thüring was a German physicist and astronomer.Thüring studied mathematics, physics, and astronomy at the University of Munich and received his doctorate in 1928, under Alexander Wilkens and Arnold Sommerfeld...


, 1940–1945
Kasimir Graff

Kasimir Graff

Kasimir Romuald Graff was a German astronomer. He worked as an assistant at the Hamburg Observatory and became a professor at Hamburg in 1916. In 1928 he became director of the Vienna Observatory, Austria. When the Nazi government took over in Austria in 1938, he was forced to retire...


, 1945–1949
Josef Hopmann

Josef Hopmann

Josef Hopmann was a German astronomer.He was born in Berlin and received his education at universities in Bonn and Berlin, then became an assistant at Bonn Observatory in 1914. In 1930 he became a full professor and was appointed director of the Leipzig Observatory. Between 1918 and 1974 he...


, 1951–1962
Josef Meurers, 1962–1979
Karl Rakos, 1979–1981
Werner Tscharnuter, 1981–1984
Michel Breger, 1984–1986
Paul Jackson

Paul Jackson

Paul Jackson may refer to:*Paul Jackson , British television producer*Paul Jackson , British video game publisher*Paul Jackson , English rugby league player...


, 1986–1994
Michel Breger, 1994–2005
Gerhard Hensler, 2006–2009
Franz Kerschbaum, 2009–
See also
External links