 Van Diemen Gulf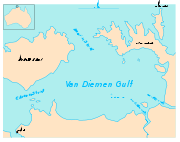 Van Diemen Gulf
is a gulf between
Arnhem Land
Arnhem Land
The Arnhem Land Region is one of the five regions of the Northern Territory of Australia. It is located in the north-eastern corner of the territory and is around 500 km from the territory capital Darwin. The region has an area of 97,000 km² which also covers the area of Kakadu National...
, of the attached
Cobourg Peninsula
Cobourg Peninsula
The Cobourg Peninsula is located 350 kilometres east of Darwin in the Northern Territory, Australia. It is deeply indented with coves and bays, covers a land area of about 2,100 km², and is virtually uninhabited with a population ranging from about 20 to 30 in five family outstations, but...
and
Melville Island
Melville Island, Northern Territory
Melville Island or Yermalner Island lies in the eastern Timor Sea, off the coast of the Northern Territory of Australia. It is west of the Cobourg Peninsula in Arnhem Land and north of Darwin....
in northern Australia. It is connected to the
Timor Sea
Timor Sea
The Timor Sea is a relatively shallow sea bounded to the north by the island of Timor, to the east by the Arafura Sea, to the south by Australia and to the west by the Indian Ocean....
in the west by the Clarence Strait (near the city of
Darwin
Darwin, Northern Territory
Darwin is the capital city of the Northern Territory, Australia. Situated on the Timor Sea, Darwin has a population of 127,500, making it by far the largest and most populated city in the sparsely populated Northern Territory, but the least populous of all Australia's capital cities...
), and to the
Arafura Sea
Arafura Sea
The Arafura Sea lies west of the Pacific Ocean overlying the continental shelf between Australia and New Guinea.-Geography:The Arafura Sea is bordered by Torres Strait and through that the Coral Sea to the east, the Gulf of Carpentaria to the south, the Timor Sea to the west and the Banda and Ceram...
in the north by
Dundas Strait
Dundas Strait
Dundas Strait is a sea passage in the Northern Territory of Australia located between Melville Island and the Garig Gunak Barlu National Park on the Cobourg Peninsula. It connects the Arafura Sea to the Van Diemen Gulf....
(between Melville Island and Cobourg Peninsula). It stretches over an area of about 14,000 km².
Rivers draining into the Gulf include the South Alligator River, the East Alligator River and the Adelaide River.