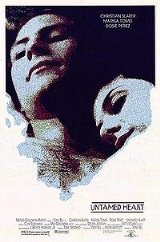 Untamed Heart
Untamed Heart
is a
1993
1993 in film
The year 1993 in film involved many significant films, including the blockbuster hits Jurassic Park, The Fugitive and The Firm. -Events:...
film starring
Christian Slater
Christian Slater
Christian Michael Leonard Slater is an American actor. He made his film debut with a small role in The Postman Always Rings Twice before playing a leading role in the 1985 film The Legend of Billie Jean...
and
Marisa Tomei
Marisa Tomei
Marisa Tomei is an American stage, film and television actress. Following her work on As The World Turns, Tomei came to prominence as a supporting cast member on The Cosby Show spinoff A Different World in 1987...
. It mixes drama with romance and comedy and tells the story of a young woman, always unlucky in love, finally finding true love in a very shy young man. The film is directed by
Tony Bill
Tony Bill
Gerard Anthony "Tony" Bill is an American actor, producer, and director. He produced the 1973 movie The Sting, for which he shared the Academy Award for Best Picture with Michael Phillips and Julia Phillips...
, and written by Tom Sierchio. The original music score is composed by
Cliff Eidelman
Cliff Eidelman
Clifford Glen "Cliff" Eidelman is an American composer and conductor who scored films such as Star Trek VI: The Undiscovered Country, Free Willy 3: The Rescue, and Christopher Columbus: The Discovery.- Career :Eidelman began his formal training in violin at the age of eight and continued with...
.
Caroline (Tomei) is a young woman working as a waitress who is always unlucky in love.
[during her beauty exam] Lady, I'm not butchering your hair. It's a free haircut, so stop you bitching, before I cut it all off, you fat cow!

[about her dad] First guy to walk out of my life, definitely not the last. Funny things, you and me. You always stayin' away from love, me always chasin' after it.

Don't let people stand in your way. They're just people, like you and me! Well, maybe not like you. I don't know if I have ever met anyone like you before.

He was like an angel, you know? I never knew life could be like that. He was the one thing I followed through in my life, the one thing I didn't give up on. I was good at loving him.

I am going to fall in love with you. You don't have to love me back. I am going to give you my heart.

My life is like watching the Three Stooges in Spanish!

What worries me is when someone is as screwed up as these guys doesn't want me!

He doesn't make sense, I don't make sense, together we make sense.

Magic records and a baboon heart...

I am not very good with people.