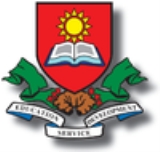 University of Namibia
The
University of Namibia
(UNAM) is the national university of Namibia, located in the
Pioneers Park
Pioneers Park
Pioneers Park is a suburb in the south of Windhoek, Namibia, in the Windhoek West parliamentary consituency. It was developed in the second half of the 20th century as a white community, with the previous black residents being expelled to Katutura. The suburb is mainly residential, but also...
district of
Windhoek
Windhoek
Windhoek is the capital and largest city of the Republic of Namibia. It is located in central Namibia in the Khomas Highland plateau area, at around above sea level. The 2001 census determined Windhoek's population was 233,529...
. Established by an act of
National Assembly
National Assembly of Namibia
The National Assembly of Namibia is the lower chamber of the country's bicameral Parliament. It has a total of 78 members. 72 members are directly elected through a system of party-list proportional representation and serve five-year terms. Six additional members are appointed by the President.The...
on 31 August 1992, UNAM includes Colleges of
Agriculture
Agriculture
Agriculture is the cultivation of animals, plants, fungi and other life forms for food, fiber, and other products used to sustain life. Agriculture was the key implement in the rise of sedentary human civilization, whereby farming of domesticated species created food surpluses that nurtured the...
and
Natural Resources
Natural Resources
Natural Resources is a soul album released by Motown girl group Martha Reeves and the Vandellas in 1970 on the Gordy label. The album is significant for the Vietnam War ballad "I Should Be Proud" and the slow jam, "Love Guess Who"...
,
Economics
Economics
Economics is the social science that analyzes the production, distribution, and consumption of goods and services. The term economics comes from the Ancient Greek from + , hence "rules of the house"...
& Management Science Education,
Humanities
Humanities
The humanities are academic disciplines that study the human condition, using methods that are primarily analytical, critical, or speculative, as distinguished from the mainly empirical approaches of the natural sciences....
and Social Science,
Law
Law
Law is a system of rules and guidelines which are enforced through social institutions to govern behavior, wherever possible. It shapes politics, economics and society in numerous ways and serves as a social mediator of relations between people. Contract law regulates everything from buying a bus...
, Medical & Health Science, and
Science
Science
Science is a systematic enterprise that builds and organizes knowledge in the form of testable explanations and predictions about the universe...
. The University of Namibia is the only institution to offer a
doctorate
Doctorate
A doctorate is an academic degree or professional degree that in most countries refers to a class of degrees which qualify the holder to teach in a specific field, A doctorate is an academic degree or professional degree that in most countries refers to a class of degrees which qualify the holder...
in the study of the Khoekhoe language.
Faculty of Engineering and Information Technology
The Faculty of Engineering and Information Technology was founded on 1 January 2008 following the dissolution of the Dept of Engineering and Technology, which had existed under the Faculty of Science since 2000. The ground breaking ceremony was conducted by
Sam Nujoma
Sam Nujoma
Samuel Daniel Shafiishuna Nujoma is a Namibian politician who was the first President of Namibia from 1990 to 2005. He led the South-West Africa People's Organisation in its long struggle against South African rule and took office as President when Namibia obtained independence on 21 March 1990...
, the Chancellor of the University of Namibia at
Ongwediva
Ongwediva
Ongwediva is a town in the Oshana Region in the north of Namibia. It is the district capital of the Ongwediva electoral constituency. it had 27,000 inhabitants and covered 4,102 hectares of land. Ongwediva has seven churches, two private schools and 13 government-run schools...
on 17 November 2007. The ceremony took place on a 13-hectare plot of land that had been donated to UNAM by Ongwediva Town Council.
In January 2008, the National Planning Commission approved funding for construction of Phase 1 of the new Faculty of Engineering and Information Technology (FOET) in Ongwediva. Construction work began in April 2008 with emphasis on lecture rooms, staff offices, laboratories, IT facilities, student hostels, staff houses and other support facilities. It was the completion of these facilities (Phase IA) that enabled the first batch of students to be admitted in the FOET.
Academics
Notable academics at the University of Namibia have included Bience Gawanas,
André du Pisani
André du Pisani
André du Pisani is a Namibian political scientist. Du Pisani has been a professor at the University of Namibia since 1998.-Education:...
,
Dorian Haarhoff
Dorian Haarhoff
Dorian Haarhoff is a South African-Namibian writer and poet. Haarhoff was born in 1944 in Kimberley, Northern Cape, then part of the Cape Province. He is a naturalized citizen of Namibia. He wrote his first poem in 1955 and has been published numerous books. He was also a professor of English at...
and Peter Katjavivi.
Marks scandal
It has been reported that UNAM's lecturers have been exchanging marks for sexual favours from students and exchanging money for doing their assignments. This has resulted in serious academic degradation and a matter of serious concern for Namibian government and UNAM management to investigate and combat such illegal practices.
External links