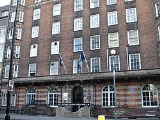 University College London Union
University College London Union
(
UCLU
), founded in 1893, has a credible claim to be
England
England
England is a country that is part of the United Kingdom. It shares land borders with Scotland to the north and Wales to the west; the Irish Sea is to the north west, the Celtic Sea to the south west, with the North Sea to the east and the English Channel to the south separating it from continental...
's oldest
students' union
Students' union
A students' union, student government, student senate, students' association, guild of students or government of student body is a student organization present in many colleges and universities, and has started appearing in some high schools...
. It was formed with the following objectives: "the promotion of social intercourse and of the means of recreation, physical and mental, of the students of University College, and the financial successes of students' clubs". UCL Union was the first of its kind as it was formed for both athletics clubs and social activities alike.
Since its formation, the Union has taken on responsibility for many aspects of student life. Events for example were seen as a key element hence the establishment of an Ents Committee. The student magazine
Pi
Pi Magazine
Pi is the name of the official student publications of the University College London Union.-History:Pi was originally launched as a newspaper. In the aftermath of World War II, there was strong popular support amongst college and UCL Union officials for some sort of community project that would...
(then known as the Gazette) was formed a few years later and the Somers Town sports venue was also acquired.
UCL Union is affiliated to the National Union of Students.
Organisation
Student Development is at the heart of the work the Union does today. UCL Union runs over 170 clubs and societies for its members. It runs commercial services including ten bars, cafés and two shops, a fitness centre. UCL students, through the Union has nine weeks free access to put on student shows and events in the UCL-owned professionally run Bloomsbury Theatre.
The Union's sports clubs have access to several different venues including Astor College Gym, Bloomsbury Fitness, the Somers Town Sports Centre and the 100 acre (0.404686 km²) Shenley Sports grounds, which Watford Football Club rent for training purposes.
UCLU provides support to students through Jobshop and the Rights & Advice Centre, and has a highly active Volunteering Services Unit, providing volunteering opportunities for over 1200 students a year.
As well as magazine "
Pi
Pi
' is a mathematical constant that is the ratio of any circle's circumference to its diameter. is approximately equal to 3.14. Many formulae in mathematics, science, and engineering involve , which makes it one of the most important mathematical constants...
", the Union's media output includes the radio station
Rare FM
Rare FM
Rare FM is the student-run radio station of UCL. The current station manager is Tom Riste-Smith.-Background:Rare FM was set up in 1998 as an affiliated society of UCL Union, headed at that time by Ed Jackson...
, the "alternative" magazine
The Cheese Grater
The Cheese Grater
The Cheese Grater is an award-winning magazine produced at the University College London by a society of UCL Union, a students' union. It was first published in March 2004....
and a number of smaller publications. The
University of London Union
University of London Union
The University of London Union is the university-wide students' union for the University of London...
's newspaper,
London Student
London Student
London Student is the newspaper of the University of London Union. It began publishing in 1979. It is an editorially independent publication with ultimate control over content and editorial appointments vested in the elected full-time Editor, who is currently Joe Rennison.It distributes 12,500...
, is also distributed at UCL Union, as UCL is one of the
University of London
University of London
-20th century:Shortly after 6 Burlington Gardens was vacated, the University went through a period of rapid expansion. Bedford College, Royal Holloway and the London School of Economics all joined in 1900, Regent's Park College, which had affiliated in 1841 became an official divinity school of the...
's constituent colleges.
Clubs and Societies
UCL has numerous clubs and societies, catering to a range of interests, which include, sports, film, drama, martial arts, politics and degree-subjects. The UCL Union Debating Society, founded in 1828, is the third oldest student debating society in the UK after the Oxford and Cambridge Unions. UCL Union Conservative Society, founded in 1908, is the oldest student Conservative association in England. UCL Union Jewish Society is among the most active Jewish student groups in the UK, representing what constitutes the largest proportion of Jewish students on any campus in the UK; additionally, the UCL Union Christian Union is one of the largest in the city, whilst the UCL Union Islamic Society is amongst the largest in the country. Each year UCL stages an
opera
Opera
Opera is an art form in which singers and musicians perform a dramatic work combining text and musical score, usually in a theatrical setting. Opera incorporates many of the elements of spoken theatre, such as acting, scenery, and costumes and sometimes includes dance...
, despite its lack of a music department. UCOpera receives considerable national press coverage.
Events
Following the introduction of a new Events Department at UCL Union in late 2006, UCL Union has successfully developed an extensive events programme. The Union now runs different events and promotions in its own bars six nights a week and they have also lengthened their opening hours to 2am on certain nights.
Monday night: 99's promotions (a range of 99p drinks available until 9pm).
Tuesday night: Live Music - various events including Jazz Jammin (Jazz/Blues/Funk - open jam), Popaganda (Indy/Alt), Retribution (Rock/Metal), UCLive (varied), EasyJams (Open Mic) and the Annual Battle of the Bands.
Wednesday night: Sports Night - Bar £1.50
Thursday night: Cocktails - cheap cocktails, with a 2-4-1 happy hour, and Pub Quiz
Friday Night: The Exchange (Drinking stock exchange game).
Saturday night: Double Vision - Karaoke and Bar £1.50.
These are all based in the main Gordon Street Bars, but the Medics bar on Huntley Street has its own range of events to add to all of this, including Ministry of Comedy every other Week on Wednesday, and 'Thank RUMs its Friday' on, well Fridays!
In 2007, UCL Union dramatically increased the amount of events they hosted in external venues by creating their "VODPOP" brand @
Turnmills
Turnmills
Turnmills was a London nightclub on the corner of Turnmill Street and Clerkenwell Road in the London Borough of Islington. It closed on the morning of 24 March 2008....
and later followed by "Club Neon" @ Heaven. Both have now moved Venue with Vodpop successfully relaunching itself at Pacha after a brief stint at Scala, and Club Neon currently poised to move to an exciting new Venue after a one off fling at the Arches. The Union also makes extensive use of external clubs for one off events such as the Winter Ball, and has to date held events in Egg, Scala, Ministry of Sound, Heaven, Turnmills, Koko and Pacha among others.
Campaigns
The Union facilitates and funds a set of independent campaigns every term. These have included: Go Green Week, Stop AIDS, Darfur Week, Free Education, London Living Wage, Save a Life (organ donation), Students for Ethical Investment and Mental Health Week.
There is also an active set of Liberation Networks, including LGBT, BME, Women's and Disabled. As well as a Students of Faith network and an International Students Network
Current
| Year of Office | Democracy & Communications Officer | Education & Campaigns Officer | Finance & Services Officer | Medical & Postgraduate Student Officer | Student Activities Officer | Welfare Officer | General Secretary (Non - Sabbatical) |
| --- | --- | --- | --- | --- | --- | --- | --- |
| 2011–2012 | James Skuse | Luke Durigan | Timothy Rees Jones | Neil Chowdhury | Amy Evans | Rachel Eyre | Zubair Idris |
| 2010–2011 | Mandy Smith | Michael Chessum | Matthew Burgess | Alex Nesbitt | Alex Karski | Leo-Alexander Nicholas | Thomas Elliott |
Past officers
This table uses the 2008–2010 officer titles.
| Year of office | Communications & Services Officer | Education Officer | Finance & Democracy officer | Medical & Postgraduate Student Officer | Student Activities officer | Welfare Officer | General Secretary (Non - Sabbatical) |
| --- | --- | --- | --- | --- | --- | --- | --- |
| 2009–2010 | Grace Barnett | Josh Blacker | Andrew Caddy | Kwesi Adedeji-Watson | James Hodgson | Nicki Challenger | Pierre Deludet |
| 2008–2009 | Charlie Clinton | Edward Steward | Nathanael Macdonald | Billy Street | Jen Currigan | Kate Rowley | Leo-Alexander Nicholas |
This table uses the 2000–2008 officer titles.
| Year of office | Finance & Administration Officer | Medical Students & Sites Officer | Media & Communications Officer | Clubs, Societies & Student Development Officer | Services & Events Officer | Education & Welfare Officer | General Secretary (Non - Sabbatical) |
| --- | --- | --- | --- | --- | --- | --- | --- |
| 2007–2008 | Jim Hunkin (Acting, following resignation of Dominic Tarn) | Jules Mazowiecki | Sean Clothier | Steve Whittle | Olivia Alford | Andrew Fernando | Samantha Godwin |
| 2006–2007 | Mark Littler (Resigned) | Eleanor Fletcher | Nick Barnard | Robbie Swale | Zoë Davies | Ed Bray (Resigned) | Dominik Piech |
| 2005–2006 | Lucy Gould | Luke Yahanpath | Alan Gardner | Natasha Davis | Ben Williamson | Mary-Beth Young | Luca Manfredi |
| 2004–2005 | Victoria Green | Vishali Thakrar | Alex Walsh | Liz Oglesby | Steven Healer | David Renton | Nigel Harris |
| 2003–2004 | Sinan Rabee | Amy Hansen | Andreas von Maltzahn | Alex Lal | Alastair Boyle | Alex Coles | Frank Penter / Stephen Fingleton |
| 2002–2003 | Ben McMechan | Rob Farag | Pete Huggins | Frank Penter | Angi Bholé | Nigel Harris | Matt Fitzpatrick |
| 2001–2002 | Simon Luscombe | Dan Gibbons | Celia Parkyn | Sarah Chapman | Rachel Stone | Ursula Brown | John Tumbridge |
| 2000–2001 | Rob Fear | Brian Hogan | Laura Emson | Felicity Espley | Nick Lovatt | Dan Ozarow | Katie Bramall |
External links