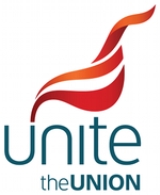 Unite the Union
Unite – the Union
, known as
Unite
, is a British and Irish
trade union
Trade union
A trade union, trades union or labor union is an organization of workers that have banded together to achieve common goals such as better working conditions. The trade union, through its leadership, bargains with the employer on behalf of union members and negotiates labour contracts with...
, formed on 1 May 2007, by the merger of
Amicus
Amicus
Amicus was the United Kingdom's second-largest trade union, and the largest private sector union, formed by the merger of Manufacturing Science and Finance, the AEEU agreed in 2001, and two smaller unions, UNIFI and the GPMU...
and the
Transport and General Workers' Union
Transport and General Workers' Union
The Transport and General Workers' Union, also known as the TGWU and the T&G, was one of the largest general trade unions in the United Kingdom and Ireland - where it was known as the Amalgamated Transport and General Workers' Union - with 900,000 members...
. The General Secretary of Unite is
Len McCluskey
Len McCluskey
Len McCluskey is the General Secretary of the British and Irish union Unite and a former Liverpool dock worker.- Early life :McCluskey was born in the Liverpool docklands. and went to Cardinal Godfrey school in Anfield...
On 2 July 2008, Unite signed an agreement to merge with the
United Steelworkers
United Steelworkers
The United Steel, Paper and Forestry, Rubber, Manufacturing, Energy, Allied Industrial and Service Workers International Union is the largest industrial labor union in North America, with 705,000 members. Headquartered in Pittsburgh, U.S., the United Steelworkers represents workers in the United...
to form a new global union entity called
Workers Uniting
Workers Uniting
Workers Uniting is a trans-Atlantic trade union created in 2008 by a merger of Unite the Union of the United Kingdom and Ireland with the U.S.-based United Steelworkers union . Both unions still retain individual branding and leadership.The merged union has a membership of three million members....
which will represent over 3 million members in the United Kingdom, the Republic of Ireland, North America and the Caribbean.
Executive Council
As part of the merger process, a Joint Executive Council (formed of the executives of both the predecessor unions) took office on the vesting day. In March 2008, a new Executive Council for the expanded Union was elected, taking office on 1 May 2008 and having a three year term.The Executive Council was tasked with putting a new Unite rulebook to a postal ballot of members during July 2008. The rule book was accepted by a majority of members and will not be subject to amendment until a Rules Conference is held.
The first reduced unified Unite Executive Council was elected in 2011
The first single General secertary of Unite Len McCluskey was elected in Dec 2010 on a platform of unification and standing for one term of office only.
The UNITE special Rules Conference in 2010 agreed a rule change including a formula for how seats will be allocated on the UNITE Executive Council which takes office in 2011. There are a number of factions within UNITE.
Unite Now, A moderate left movement with growing support and influence with Unite activists as an alternative movement for lay members.
United Left, Made up of various factions of supporters which include the - SWP Socialist workers Party and Communist party. Supported Len McCluskey in his election.
Declining membership
A private presentation given by Unite's former joint general secretary Tony Woodley showed that membership of the union had declined by 262,740 between 2007 and 2010.
Payment to outgoing leader
Derek Simpson, the former leader of the union received a payment of over £500,000 when he left his post in 2010.
Hunger Strike
The participants in the 2008 rooftop
hunger strike
Hunger strike
A hunger strike is a method of non-violent resistance or pressure in which participants fast as an act of political protest, or to provoke feelings of guilt in others, usually with the objective to achieve a specific goal, such as a policy change. Most hunger strikers will take liquids but not...
at Unite's Transport House building in
Belfast
Belfast
Belfast is the capital of and largest city in Northern Ireland. By population, it is the 14th biggest city in the United Kingdom and second biggest on the island of Ireland . It is the seat of the devolved government and legislative Northern Ireland Assembly...
, were formerly shop stewards of the Transport and General Workers Union, now the T&G section of Unite the Union.
The dispute is over legal fees and compensation for an unfair dismissal action against the workers' employer, arising from a 2002 strike at
Belfast International Airport
Belfast International Airport
Belfast International Airport is a major airport located northwest of Belfast in Northern Ireland. It was formerly known and is still referred to as Aldergrove Airport, after the village of the same name lying immediately to the west of the airport. Belfast International shares its runways with...
, and the related actions of a full-time union official employee.
Joint General Secretary Election and Merger Suspension
On the 9 October 2008 the executive council of Unite announced that there would be an election for the General Secretary (Amicus section), with a timetable of January/February 2009 for the election, the results being announced in March 2009. This election was for a fixed term until December 2010.
The Executive council also postponed the adoption of the new rule book and integration until May 2009.
This action was taken in light of the potential success of a legal challenge to Simpson's extension of tenure by a "single member" of the union.
Jerry Hicks
Jerry Hicks (trade unionist)
Jerry Hicks is a British trade unionist. He was the convenor of the Amicus union at Rolls Royce in Bristol, and was dismissed in 2005. An employment tribunal found that he had "probably been dismissed on trade union grounds"....
, a former member of the union's Executive and its General Purposes and Finance Committee and unfairly dismissed convenor of Rolls Royce at Bristol, disclosed at the outset that he was the person behind the challenge. He made the same legal challenge that Simpson deployed successfully on his predecessor Ken Jackson.
Candidates seeking nomination for the election, and their main union positions at the beginning of March 2009, were:
Derek Simpson

Derek Simpson (trade unionist)

Derek Simpson is the former Joint General Secretary of the UK's biggest private-sector trade union, Unite from 2007 until 2010. He was General Secretary of the Amicus trade union from 2002 until its merger with the Transport and General Workers' Union to form Unite in 2007.-Early life:Derek...


(incumbent)
Jerry Hicks

Jerry Hicks (trade unionist)

Jerry Hicks is a British trade unionist. He was the convenor of the Amicus union at Rolls Royce in Bristol, and was dismissed in 2005. An employment tribunal found that he had "probably been dismissed on trade union grounds"....


(former convenor, Rolls Royce, Bristol)
Laurence Faircloth (Regional Secretary, South West Region)
Kevin Coyne (Regional Secretary, North West Region)
Paul K. Reuter (National Officer)
All candidates received sufficient nominations but Laurence Faircloth stood down after nominations closed, recommending that his supporters support Derek Simpson.
| Candidate | Votes Cast | Percentage |
| --- | --- | --- |
| Derek Simpson | 60,048 | 37.7% |
| Jerry Hicks | 39,307 | 24.7% |
| Kevin Coyne | 30,603 | 19.2% |
| Paul Reuter | 28,283 | 17.8% |
| [spoilt votes] | 1,031 | 0.6% |
A total of 159,272 voting slips were returned, out of a possible 1,096,511 voters, a turnout of 14.5%. Simpson won the election with 37.7% of the total votes cast, and will remain in the post of Joint General Secretary until December 2010.
External links