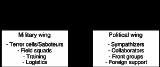 Unconventional warfare
Unconventional warfare
is the opposite of
conventional warfare
Conventional warfare
Conventional warfare is a form of warfare conducted byusing conventional military weapons and battlefield tactics between two or more states in open confrontation. The forces on each side are well-defined, and fight using weapons that primarily target the opposing army...
. Where conventional warfare is used to reduce an opponent's
military
Military
A military is an organization authorized by its greater society to use lethal force, usually including use of weapons, in defending its country by combating actual or perceived threats. The military may have additional functions of use to its greater society, such as advancing a political agenda e.g...
capability, unconventional warfare is an attempt to achieve military victory through acquiescence, capitulation, or clandestine support for one side of an existing conflict.
On the surface, UW contrasts with conventional warfare in that: forces or objectives are covert or not well-defined, tactics and weapons intensify environments of subversion or intimidation, and the general or long-term goals are
coercive
Coercion
Coercion is the practice of forcing another party to behave in an involuntary manner by use of threats or intimidation or some other form of pressure or force. In law, coercion is codified as the duress crime. Such actions are used as leverage, to force the victim to act in the desired way...
or
subversive
Subversion (politics)
Subversion refers to an attempt to transform the established social order, its structures of power, authority, and hierarchy; examples of such structures include the State. In this context, a "subversive" is sometimes called a "traitor" with respect to the government in-power. A subversive is...
to a political body.
Objectives
The general objective of unconventional warfare is to instill a belief that peace and security are not possible without compromise or concession. Specific objectives include inducement of war weariness, curtailment of civilian
standards of living
Standard of living
Standard of living is generally measured by standards such as real income per person and poverty rate. Other measures such as access and quality of health care, income growth inequality and educational standards are also used. Examples are access to certain goods , or measures of health such as...
and civil liberties associated with greater security demands, economic hardship linked to the costs of war; hopelessness to defend against assaults, fear, depression, and disintegration of
morale
Morale
Morale, also known as esprit de corps when discussing the morale of a group, is an intangible term used to describe the capacity of people to maintain belief in an institution or a goal, or even in oneself and others...
.
The ultimate goal of this type of
war
War
War is a state of organized, armed, and often prolonged conflict carried on between states, nations, or other parties typified by extreme aggression, social disruption, and usually high mortality. War should be understood as an actual, intentional and widespread armed conflict between political...
fare is to motivate an enemy to stop attacking or resisting even if it has the
ability
to continue. Failing this, a secondary objective can be to emasculate the enemy before a conventional attack.
Methods and organization
Unconventional warfare targets civilian population and political bodies directly, seeking to render the military proficiency of the enemy irrelevant. Limited conventional warfare tactics can be used unconventionally to demonstrate might and power, rather than to substantially reduce the enemy's ability to fight. In addition to the coercive use of traditional weapons, armaments that primarily target civilians can be used: atomic weapons, urban
incendiary device
Incendiary device
Incendiary weapons, incendiary devices or incendiary bombs are bombs designed to start fires or destroy sensitive equipment using materials such as napalm, thermite, chlorine trifluoride, or white phosphorus....
s, or other such weapons.
Special Forces
Special forces
Special forces, or special operations forces are terms used to describe elite military tactical teams trained to perform high-risk dangerous missions that conventional units cannot perform...
, inserted behind an enemy's front line, can be used unconventionally to spread subversion and propaganda, to aid native resistance fighters, and to ultimately build environments of fear and confusion. Tactics of destroying non-military infrastructure and
blockading
Blockade
A blockade is an effort to cut off food, supplies, war material or communications from a particular area by force, either in part or totally. A blockade should not be confused with an embargo or sanctions, which are legal barriers to trade, and is distinct from a siege in that a blockade is usually...
civilian staples are used to decrease the morale of civilians and, when applicable, also the soldiers in the field through concern for their families.
Globalization
Globalization
Globalization refers to the increasingly global relationships of culture, people and economic activity. Most often, it refers to economics: the global distribution of the production of goods and services, through reduction of barriers to international trade such as tariffs, export fees, and import...
dissenters broadly criticize the managed-trade system as a planet-wide version of the
blockading tactic
Anaconda Plan
The Anaconda Plan or Scott's Great Snake is the name widely applied to an outline strategy for subduing the seceding states in the American Civil War. Proposed by General-in-Chief Winfield Scott, the plan emphasized the blockade of the Southern ports, and called for an advance down the Mississippi...
of unconventional warfare.
Definitions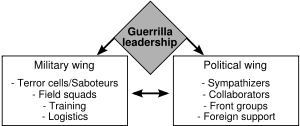 The
United States Department of Defense
United States Department of Defense
The United States Department of Defense is the U.S...
defines UW as a broad spectrum of military and paramilitary operations, normally of long duration, predominantly conducted through, with, or by indigenous or surrogate forces who are organized, trained, equipped, supported, and directed in varying degrees by an external source. It includes, but is not limited to,
guerrilla warfare
Guerrilla warfare
Guerrilla warfare is a form of irregular warfare and refers to conflicts in which a small group of combatants including, but not limited to, armed civilians use military tactics, such as ambushes, sabotage, raids, the element of surprise, and extraordinary mobility to harass a larger and...
,
subversion
Subversion (politics)
Subversion refers to an attempt to transform the established social order, its structures of power, authority, and hierarchy; examples of such structures include the State. In this context, a "subversive" is sometimes called a "traitor" with respect to the government in-power. A subversive is...
,
sabotage
Sabotage
Sabotage is a deliberate action aimed at weakening another entity through subversion, obstruction, disruption, or destruction. In a workplace setting, sabotage is the conscious withdrawal of efficiency generally directed at causing some change in workplace conditions. One who engages in sabotage is...
,
intelligence activities
Intelligence (information gathering)
Intelligence assessment is the development of forecasts of behaviour or recommended courses of action to the leadership of an organization, based on a wide range of available information sources both overt and covert. Assessments are developed in response to requirements declared by the leadership...
, and
unconventional assisted recovery
Extraction (military)
Extraction , in tactical combat and special operations use, is the process of removing constituents from a targeted site when it is considered imperative that they be immediately relocated out of a hostile environment and taken to a secured area under friendly control...
. Organization varies by culture and type of conflict.
In the
People's Wars
conflicts of Vietnam and China, a clear structure of rural bases, different troop types and leadership by a strong centralized political group or party prevailed. In other conflicts the pattern is more fragmented, and unconventional warfare need not rely on rural bases at all. Generally, organization is divided into political or military wings.
See also
US & NATO specific:
U.S. Army Special Forces
Special Activities Division

Special Activities Division

The Special Activities Division is a division in the United States Central Intelligence Agency's National Clandestine Service responsible for covert operations known as "special activities"...



Reagan Doctrine

Reagan Doctrine

The Reagan Doctrine was a strategy orchestrated and implemented by the United States under the Reagan Administration to oppose the global influence of the Soviet Union during the final years of the Cold War...



Operation Gladio

Operation Gladio

Operation Gladio is the codename for a clandestine NATO "stay-behind" operation in Italy after World War II. Its purpose was to continue anti-communist actions in the event of a shift to a Communist party led government...



External links