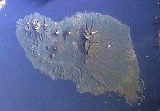 Umboi Island
Umboi
is a volcanic
island
Island
An island or isle is any piece of sub-continental land that is surrounded by water. Very small islands such as emergent land features on atolls can be called islets, cays or keys. An island in a river or lake may be called an eyot , or holm...
between the mainland of
Papua New Guinea
Papua New Guinea
Papua New Guinea , officially the Independent State of Papua New Guinea, is a country in Oceania, occupying the eastern half of the island of New Guinea and numerous offshore islands...
and the island of
New Britain
New Britain
New Britain, or Niu Briten, is the largest island in the Bismarck Archipelago of Papua New Guinea. It is separated from the island of New Guinea by the Dampier and Vitiaz Straits and from New Ireland by St. George's Channel...
. It is separated from New Britain by
Dampier Strait
Dampier Strait (Papua New Guinea)
Dampier Strait in Papua New Guinea separates Umboi Island and New Britain, linking the Bismarck Sea to the north with the Solomon Sea to the south, at ....
and has an elevation of 1,548 m. Umboi is a
Holocene
Holocene
The Holocene is a geological epoch which began at the end of the Pleistocene and continues to the present. The Holocene is part of the Quaternary period. Its name comes from the Greek words and , meaning "entirely recent"...
complex volcano
Complex volcano
A complex volcano, also called a compound volcano, is a volcano with more than one feature. They form because changes of their eruptive characteristics or the location of multiple vents in an area...
with no historic eruptions. A complex volcano refers to the extensive assemblage of spatially, temporally, and genetically related major and minor volcanic centers with their associated
lava
Lava
Lava refers both to molten rock expelled by a volcano during an eruption and the resulting rock after solidification and cooling. This molten rock is formed in the interior of some planets, including Earth, and some of their satellites. When first erupted from a volcanic vent, lava is a liquid at...
and pyroclastic flows.
It is said (by some natives and by some American investigators) to be the home of the
Ropen
Ropen
The Ropen is a flying cryptid alleged to live in the vicinity of Papua New Guinea. According to the book Searching for Ropens, it is "any featherless creature that flies in the Southwest Pacific, and has a tail-length more than 25% of its wingspan." On Umboi Island the word "ropen" refers to a...
, a nocturnal creature, more pterosaur-like than bat-like, that eats fish, according to the book
Searching For Ropens