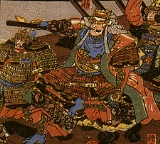 Uesugi Kenshin
was a
daimyo
Daimyo
is a generic term referring to the powerful territorial lords in pre-modern Japan who ruled most of the country from their vast, hereditary land holdings...
who ruled
Echigo province
Echigo Province
was an old province in north-central Japan, on the shores of the Sea of Japan. It was sometimes called , with Echizen and Etchū Provinces. Today the area is part of Niigata Prefecture, which also includes the island which was the old Sado Province. This province was the northernmost part of the...
in the
Sengoku period
Sengoku period
The or Warring States period in Japanese history was a time of social upheaval, political intrigue, and nearly constant military conflict that lasted roughly from the middle of the 15th century to the beginning of the 17th century. The name "Sengoku" was adopted by Japanese historians in reference...
of
Japan
Japan
Japan is an island nation in East Asia. Located in the Pacific Ocean, it lies to the east of the Sea of Japan, China, North Korea, South Korea and Russia, stretching from the Sea of Okhotsk in the north to the East China Sea and Taiwan in the south...
.
He was one of the most powerful lords of the Sengoku period. While chiefly remembered for his prowess on the battlefield, Kenshin is also regarded as an extremely skillful administrator who fostered the growth of local industries and trade; his rule saw a marked rise in the standard of living of Echigo. Kenshin is famed for his honourable conduct, his military expertise, a long-standing rivalry with
Takeda Shingen
Takeda Shingen
, of Kai Province, was a preeminent daimyo in feudal Japan with exceptional military prestige in the late stage of the Sengoku period.-Name:Shingen was called "Tarō" or "Katsuchiyo" during his childhood...
, his numerous campaigns to restore order in the Kanto region as the Kanto Kanrei, and his belief in the Buddhist god of war — Bishamonten.
Engage in combat fully determined to die and you will be alive; wish to survive in the battle and you will surely meet death.

Quoted in Suzuki, Daisetz Teitaro; Zen Buddhism and Its Influence on Japanese Culture (1970); p. 188