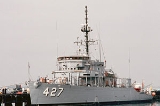 USS Constant (AM-427)
USS Constant, (AM-427/MSO-427)
was an
Aggressive class minesweeper
Aggressive class minesweeper
The Aggressive class minesweepers are a class of US-built minesweepers. They are designated as MSO , distinguishing them from the smaller coastal MSCs and inshore MSIs...
vessel in the
United States Navy
United States Navy
The United States Navy is the naval warfare service branch of the United States Armed Forces and one of the seven uniformed services of the United States. The U.S. Navy is the largest in the world; its battle fleet tonnage is greater than that of the next 13 largest navies combined. The U.S...
.
Constant
was laid down on 16 August 1951 at Fulton Shipyard,
Antioch, California
Antioch, California
Antioch is a city in Contra Costa County, California. Located in the East Bay region of the San Francisco Bay Area along the San Joaquin-Sacramento River Delta, it is a suburb of San Francisco and Oakland. The city's population was 102,372 at the U.S...
and launched on 14 February 1953. She was commissioned as
Constant
, AM-427) on 8 September 1954 and later reclassified as an Ocean
Minesweeper
Minesweeper (ship)
A minesweeper is a small naval warship designed to counter the threat posed by naval mines. Minesweepers generally detect then neutralize mines in advance of other naval operations.-History:...
MSO-427 on 7 February 1955.
Constant
operated on the west coast until she cleared
Long Beach, California
Long Beach, California
Long Beach is a city situated in Los Angeles County in Southern California, on the Pacific coast of the United States. The city is the 36th-largest city in the nation and the seventh-largest in California. As of 2010, its population was 462,257...
, 4 January 1956 for
Pearl Harbor
Pearl Harbor
Pearl Harbor, known to Hawaiians as Puuloa, is a lagoon harbor on the island of Oahu, Hawaii, west of Honolulu. Much of the harbor and surrounding lands is a United States Navy deep-water naval base. It is also the headquarters of the U.S. Pacific Fleet...
and Yokosuka, Japan, arriving 4 February.
"We could try phasers at twenty paces..."

to Splink: "Okay, even alternate versions of you are weird!"

"And they have the nerve to say I'm the weird one."

to the author-breaking the fourth wall: "We need a deus ex machina|deus ex machina, and you're deus!"

"We have a saying about our women, 'can't live with 'em, can't sacrifice them to giant, primitive alien beast gods!'"

"Why do I have the feeling this is deteriorating into the climax of Blazing Saddles?" - Ralph Zinobop (Melonpool crossover)