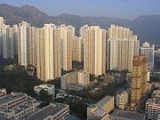 Tsz Wan Shan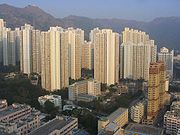 Tsz Wan Shan
is a residential area in
New Kowloon
New Kowloon
New Kowloon is an area in Kowloon, Hong Kong, bounded in the south by Boundary Street, and in the north by the ranges of the Lion Rock, Beacon Hill, Tate's Cairn and Kowloon Peak...
,
Hong Kong
Hong Kong
Hong Kong is one of two Special Administrative Regions of the People's Republic of China , the other being Macau. A city-state situated on China's south coast and enclosed by the Pearl River Delta and South China Sea, it is renowned for its expansive skyline and deep natural harbour...
. Located at the foot of Temple Hill, it is administratively part of
Wong Tai Sin District
Wong Tai Sin District
Wong Tai Sin District is one of the 18 districts of Hong Kong, and is the only landlocked district of the city. It is located in Kowloon and has a population of 444,630...
. (Note that Temple Hill is also called
Tsz Wan Shan
慈雲山, but Tsz Wan Shan usually refers to the area)
It is a densely populated
working class
Working class
Working class is a term used in the social sciences and in ordinary conversation to describe those employed in lower tier jobs , often extending to those in unemployment or otherwise possessing below-average incomes...
residential area, consisting of several large public housing estates. It was previously known for its high crime rate and young triads. This blight was eliminated when the old Tsz Wan Shan Estate (consisting of 64 buildings) was demolished in the mid-1990s. A new estate built on the site provides an environment that is less conducive for the triad gangs.
In the very north of the district, a steep path leads to a Kwun Yam temple. The path goes to Temple Hill, part of the
Ma On Shan Country Park
Ma On Shan Country Park
Some of Hong Kong's most dramatic scenery is to be found within the boundaries of the Ma On Shan Country Park . The park was established on April 27, 1979. Located in the central neck of the Sai Kung peninsula in the eastern New Territories, this covers 28.8 km2...
and then joins the
MacLehose Trail
MacLehose Trail
The MacLehose Trail , opened on 26 October 1979, is a hiking trail that crosses much of the New Territories, starting from Pak Tam Chung, Sai Kung, in the east to Tuen Mun in the west in the territory of Hong Kong. The whole trail is 100 kilometres long, marked by distance posts at 500m intervals...
and the
Wilson Trail
Wilson Trail
The Wilson Trail is a 78 km long-distance footpath in Hong Kong, only 15 km run through non-park countryside or other areas. It was named after David Wilson, Baron Wilson of Tillyorn, who was Governor of Hong Kong from 1987 to 1992. The Wilson Trail was developed by Friends of the...
, reaching across the
New Territories
New Territories
New Territories is one of the three main regions of Hong Kong, alongside Hong Kong Island and the Kowloon Peninsula. It makes up 86.2% of Hong Kong's territory. Historically, it is the region described in The Convention for the Extension of Hong Kong Territory...
.
Transport
The only public transport access to the area is by bus (mainly
KMB
Kowloon Motor Bus
The Kowloon Motor Bus Company Limited , a company of the Transport International Holdings Limited, is the largest franchised bus operators in Hong Kong, and one of the largest privately owned public bus operators in the world...
) or minibus (i.e. No. 37M from
Wong Tai Sin
Wong Tai Sin, Hong Kong
Wong Tai Sin is an area in Wong Tai Sin District, New Kowloon, Hong Kong. The area was named after the Wong Tai Sin Temple.Wong Tai Sin is surrounded by northeast Tsz Wan Shan, east Diamond Hill, south San Po Kong, south west Tung Tau and west Wang Tai Hom...
, No. 20 from San Po Kong, No. 19M from
Diamond Hill
Diamond Hill
Diamond Hill is a hill in Kowloon, Hong Kong. The name also refers to the area on or adjacent to the hill. It is surrounded by Ngau Chi Wan, San Po Kong, Wong Tai Sin and Tsz Wan Shan. Its northeast is limited by the ridge. It is principally a residential district.-Etymology:Contrary to its name,...
and No. 73M from
Kowloon Tong
Kowloon Tong
Kowloon Tong , formerly Kau Lung Tong, is an area in Hong Kong. Within New Kowloon, it is administratively divided by Kowloon City District and Sham Shui Po District...
).
Shatin to Central Line
There are no railway connections at Tsz Wan Shan, despite strong requests from Wong Tai Sin DC and many local residents.. In February 2008, during a site inspection for the Shatin to Central Line, the Secretary for Transport and Housing, Ms Eva Cheng, said the hilly terrain and geological conditions in Tsz Wan Shan made it technically difficult and risky to build a station in this location. But local residents believe the government is under pressure from local minbus operators, for which Tsz Wan Shan provides them 10% of their total business, to halt the construction of the station.
See also
Public housing estates in Tsz Wan Shan

Public housing estates in Tsz Wan Shan

The following shows the public housing estates in Tsz Wan Shan, Wong Tai Sin District, Kowloon, Hong Kong.-History:Tsz Wan Shan, or Temple Hill, was located at the north of Wong Tai Sin. There was a resettlement estate called Tsz Wan Shan Resettlement Estate in 1960s. It was the largest...



List of buildings, sites and areas in Hong Kong
Transport in Hong Kong

Transport in Hong Kong

Hong Kong has a highly developed and sophisticated transport network, encompassing both public and private transport. Over 90% of the daily journeys are on public transport, making it the highest rate in the world....