 Trommel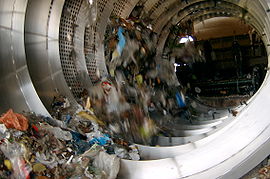 A
trommel
(from the
German
German language
German is a West Germanic language, related to and classified alongside English and Dutch. With an estimated 90 – 98 million native speakers, German is one of the world's major languages and is the most widely-spoken first language in the European Union....
word for drum,
Trommel
) is a screened cylinder used to separate materials by size - for example, separating the
biodegradable
Biodegradable waste
Biodegradable waste is a type of waste, typically originating from plant or animal sources, which may be degraded by other living organisms. Waste that cannot be broken down by other living organisms are called non-biodegradable....
fraction of mixed municipal waste or separating different sizes of crushed
stone
Rock (geology)
In geology, rock or stone is a naturally occurring solid aggregate of minerals and/or mineraloids.The Earth's outer solid layer, the lithosphere, is made of rock. In general rocks are of three types, namely, igneous, sedimentary, and metamorphic...
.
Portable trommels (also called portable trommel screens) are often used in the production of organic products from various types of waste.
For example, excavation contractors may screen their site debris into two fractions; a saleable topsoil for farms, nurseries and site-work, as well as cleaned rock for aggregates or landscaping work. This allows the contractor to resell their waste, instead of incurring the cost of sending it for disposal.
The same principle applies to the production of
compost
Compost
Compost is organic matter that has been decomposed and recycled as a fertilizer and soil amendment. Compost is a key ingredient in organic farming. At its most essential, the process of composting requires simply piling up waste outdoors and waiting for the materials to break down from anywhere...
, sand/gravel, lumber mill by-products and municipal waste.