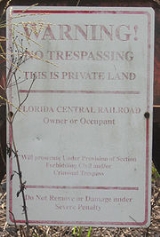 Trespass
Trespass
is an area of tort law broadly divided into three groups: trespass to the person, trespass to chattels and trespass to land.
Trespass to the person, historically involved six separate trespasses: threats, assault, battery, wounding, mayhem, and maiming. Through the evolution of the common law in various jurisdictions, and the codification of common law torts, most jurisdictions now broadly recognize three trespasses to the person: assault, which is "any act of such a nature as to excite an apprehension of battery"; battery, "any intentional and unpermitted contact with the plaintiff's person or anything attached to it and practically identified with it"; and false imprisonment, the "unlaw[ful] obstruct[ion] or depriv[ation] of freedom from restraint of movement."
Trespass to chattels, also known as trespass to goods or trespass to personal property, is defined as "an intentional interference with the possession of personal property...proximately caus[ing] injury." Trespass to chattel, does not require a showing of damages.