Toyota Park (Bridgeview)
Toyota Park
is a
soccer-specific stadium
Soccer-specific stadium
Soccer-specific stadium is a term used mainly in the United States, Canada, Australia and South Korea coined by Lamar Hunt, to refer to a sports stadium either purpose built or fundamentally redesigned for soccer and whose primary function is to host soccer matches, as opposed to a multipurpose...
located at 71st Street and Harlem Avenue in
Bridgeview, Illinois
Bridgeview, Illinois
Bridgeview is a village in Cook County, Illinois in the United States. It is located approximately from the Chicago Loop. As of the 2010 census, the village population was 16,446...
. It is the home stadium of the Chicago Fire Soccer Club, members of
Major League Soccer
Major League Soccer
Major League Soccer is a professional soccer league based in the United States and sanctioned by the United States Soccer Federation . The league is composed of 19 teams — 16 in the U.S. and 3 in Canada...
(MLS). Toyota Park was developed at a cost of around $100 million. The facility opened June 11, 2006. It also previously hosted the
Chicago Machine
Chicago Machine
The Chicago Machine is a mens field lacrosse team that plays in Major League Lacrosse that was based in Chicago, Illinois until the franchise left after the 2009 season to be a travel team in 2010. The team then transferred its roster to the reborn Rochester Rattlers on November 23, 2010 when it...
of
Major League Lacrosse
Major League Lacrosse
Major League Lacrosse, or MLL, is a professional men's field lacrosse league that is made up of five teams in the United States and one team in Canada.- History :...
and the
Chicago Red Stars
Chicago Red Stars
The Chicago Red Stars are a American professional soccer club that is based in the Chicago suburb of Lisle, Illinois that participates in the Women's Premier Soccer League. From 2009-2010, the Red Stars played their home games at Toyota Park in the Womens Professional Soccer...
of
Women's Professional Soccer
Women's Professional Soccer
Women's Professional Soccer is the top level professional women's soccer league in the United States. It began play on March 29, 2009. The league was composed of seven teams for its first two seasons and fielded 6 teams for the 2011 season, with continued plans for future expansion...
. Starting in the fall of 2011, the
Chicago Bliss
Chicago Bliss
Chicago Bliss is one of two teams that were introduced to the Lingerie Football League in 2004 .Being defeated by New York Euphoria in the Eastern Final at Lingerie Bowl II in 2005 and again at Lingerie Bowl III in 2006, the team never reached the Final.On...
of the
Lingerie Football League
Lingerie Football League
The Lingerie Football League is a women's 7-on-7 tackle American football league, created in 2009, with games played in the fall and winter at NBA, NFL, NHL and MLS arenas and stadiums. The league was founded by Mitch Mortaza...
will call Toyota Park home.
The stadium hosted its first competitive international with a 2010 World Cup qualifying match on September 10, 2008 between
USA
United States men's national soccer team
The United States men's national soccer team represents the United States in international association football competitions. It is controlled by the United States Soccer Federation and competes in CONCACAF...
and
Trinidad and Tobago
Trinidad and Tobago national football team
The Trinidad and Tobago national football team, nicknamed The Soca Warriors, is the national team of Trinidad and Tobago and is run by the Trinidad and Tobago Football Federation. It reached the first round of the 2006 FIFA World Cup Finals...
.
The Stadium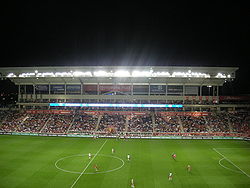 Designed to incorporate traditional stadium features from both American and European facilities, Toyota Park includes mostly covered seating, a brick
facade
Facade
A facade or façade is generally one exterior side of a building, usually, but not always, the front. The word comes from the French language, literally meaning "frontage" or "face"....
and stone entry archway, and first rows that are less than three yards from the field. It also includes 42 executive suites, 6 larger party suites, the Illinois Soccer Hall of Fame, and the Fire club offices as well as a large stadium club/banquet room measuring over 9000 square feet (836.1 m²).
A practice facility with two fields (one natural grass, one artificial turf) for the Fire club and its youth programs is adjacent to the stadium. The stadium's design is expandable to 30,000 seats without great cost for future growth. The natural grass stadium field includes a $1.7 million turf management system including full heating, drainage, and aeration capabilities and measures 120 yards (109.7 m) long by 75 yards (68.6 m) wide.
A permanent stage was incorporated into the stadium design to not only facilitate hosting concerts but also to be able to quickly change from stage configuration to soccer configuration and vice-versa. A typical conversion takes less than 18 hours to complete, and an additional 8,000 chairback seats can be accommodated on the field for concerts and other stage events. One such happening was the
Crossroads Guitar Festival
Crossroads Guitar Festival
The Crossroads Guitar Festival is a music festival and benefit concert first held in 2004 and again in 2007 and 2010. The festivals benefit the Crossroads Centre founded by Eric Clapton, a drug treatment center located in Antigua. The concerts are also intended to be a showcase for a variety of...
which was held on July 28, 2007.
In 2006, Toyota announced that it had entered into a 10-year naming rights agreement and the stadium was renamed Toyota Park.
Also in 2006, it hosted its first international rugby match, USA vs Munster. In 2009, it hosted
USA
United States national rugby union team
USA Rugby's men's national rugby union team, nicknamed the Eagles, represents the United States in the sport of rugby union. The Eagles are currently ranked 17th by the IRB World Rankings. Their highest ranking was from November 2, 2006 – September 10, 2007 at the 14th position...
vs Wales.
Since 2006, it has been the host venue for Chicago radio station
B96
WBBM-FM
WBBM-FM, known on air as "B96", is a Rhythmic Contemporary outlet in Chicago, Illinois with a Rhythmic based playlist. The station is owned by CBS Radio and broadcasts at 96.3 MHz with an ERP of 4.2 kW. WBBM's main competition is WKSC-FM "103.5 Kiss FM", as well as urban rivals WGCI-FM &...
's annual summer concert, The B96 Pepsi Summer Bash, and will also be the host in 2011.
Accessibility
Pace
Pace (transit)
Pace is the suburban bus division of the Regional Transportation Authority in the Chicago metropolitan area. It was created in 1983 by the RTA Act, which established the formula that provides funding to CTA, Metra and Pace. In 2010, Pace had 35.077 million riders. Pace's headquarters are in...
operates the #387 Toyota Park Express nonstop from the Midway Orange Line Station for Chicago Fire matches and special events.
External links