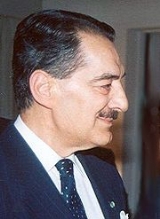 Torquato Cardilli
Torquato Cardilli
, in
L'Aquila
L'Aquila
L'Aquila is a city and comune in central Italy, both the capital city of the Abruzzo region and of the Province of L'Aquila. , it has a population of 73,150 inhabitants, but has a daily presence in the territory of 100,000 people for study, tertiary activities, jobs and tourism...
province of Italy. Cardilli graduated with a degree in oriental culture and languages and in political sciences from the Istituto Universitario Orientale of Naples. He was first appointed at the Italian Foreign Ministry's political office in 1967. He served as Ambassador of Italy to Albania (1991), Tanzania (1993), Saudi Arabia (2000) and Angola (2005). He retired in 2009 at the end of his mission as Ambassador to Luanda.
During his tenure as Ambassador to
Saudi Arabia
Saudi Arabia
The Kingdom of Saudi Arabia , commonly known in British English as Saudi Arabia and in Arabic as as-Sa'ūdiyyah , is the largest state in Western Asia by land area, constituting the bulk of the Arabian Peninsula, and the second-largest in the Arab World...
he converted to
Islam
Islam
Islam . The most common are and . : Arabic pronunciation varies regionally. The first vowel ranges from ~~. The second vowel ranges from ~~~...
.