 Torpedo bulkhead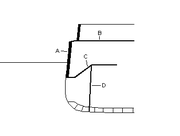 A
torpedo bulkhead
is a type of armor common on the more heavily armored warships, especially
battleship
Battleship
A battleship is a large armored warship with a main battery consisting of heavy caliber guns. Battleships were larger, better armed and armored than cruisers and destroyers. As the largest armed ships in a fleet, battleships were used to attain command of the sea and represented the apex of a...
s and
battlecruiser
Battlecruiser
Battlecruisers were large capital ships built in the first half of the 20th century. They were developed in the first decade of the century as the successor to the armoured cruiser, but their evolution was more closely linked to that of the dreadnought battleship...
s of the early 20th century. It is designed to keep the ship afloat even if the hull was struck underneath the
belt armor
Belt armor
Belt armor is a layer of heavy metal armor plated on to or within outer hulls of warships, typically on battleships, battlecruisers and cruisers, and on aircraft carriers converted from those types of ships....
by a shell or by a
torpedo
Torpedo
The modern torpedo is a self-propelled missile weapon with an explosive warhead, launched above or below the water surface, propelled underwater towards a target, and designed to detonate either on contact with it or in proximity to it.The term torpedo was originally employed for...
. After the lessons learned during
World War I
World War I
World War I , which was predominantly called the World War or the Great War from its occurrence until 1939, and the First World War or World War I thereafter, was a major war centred in Europe that began on 28 July 1914 and lasted until 11 November 1918...
, many capital ships were refitted with double, triple, or even quadruple torpedo bulkheads, as well as torpedo bulges to the exterior of the hull. For example, the last US battleship designs during
World War II
World War II
World War II, or the Second World War , was a global conflict lasting from 1939 to 1945, involving most of the world's nations—including all of the great powers—eventually forming two opposing military alliances: the Allies and the Axis...
had up to four torpedo bulkheads and a triple-bottom. The innermost bulkhead is commonly referred to as the
holding bulkhead
, and often this bulkhead would be manufactured from high tensile steel that could deform and absorb the pressure pulse from a torpedo hit without breaking. If the final bulkhead was at least 37mm thick, it may also be referred to as an
armored bulkhead
, as it would be capable of stopping splinters and shells with low striking velocities.