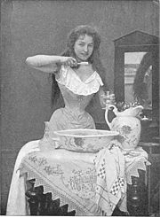 Toothbrush
The
toothbrush
is an
oral hygiene
Oral hygiene
Teeth cleaning is part of oral hygiene and involves the removal of dental plaque from teeth with the intention of preventing cavities , gingivitis, and periodontal disease. People routinely clean their own teeth by brushing and interdental cleaning, and dental hygienists can remove hardened...
instrument used to clean the teeth and gums that consists of a head of tightly clustered
bristle
Bristle
A bristle is a stiff hair or feather. Also used are synthetic materials such as nylon in items such as brooms and sweepers. Bristles are often used to make brushes for cleaning uses, as they are strongly abrasive; common examples include the toothbrush and toilet brush...
s mounted on a
handle
Handle (grip)
A handle is a part of, or attachment to, an object that can be moved or used by hand. The design of each type of handle involves substantial ergonomic issues, even where these are dealt with intuitively or by following tradition...
, which facilitates the cleansing of hard-to-reach areas of the mouth.
Toothpaste
Toothpaste
Toothpaste is a paste or gel dentifrice used with a toothbrush as an accessory to clean and maintain the aesthetics and health of teeth. Toothpaste is used to promote oral hygiene: it serves as an abrasive that aids in removing the dental plaque and food from the teeth, assists in suppressing...
, which often contains
fluoride
Fluoride
Fluoride is the anion F−, the reduced form of fluorine when as an ion and when bonded to another element. Both organofluorine compounds and inorganic fluorine containing compounds are called fluorides. Fluoride, like other halides, is a monovalent ion . Its compounds often have properties that are...
, is commonly used in conjunction with a toothbrush to increase the effectiveness of toothbrushing. Toothbrushes are available with different bristle textures, sizes and forms. Most
dentist
Dentist
A dentist, also known as a 'dental surgeon', is a doctor that specializes in the diagnosis, prevention, and treatment of diseases and conditions of the oral cavity. The dentist's supporting team aides in providing oral health services...
s recommend using a toothbrush labelled "soft", since hard bristled toothbrushes can damage
tooth enamel
Tooth enamel
Tooth enamel, along with dentin, cementum, and dental pulp is one of the four major tissues that make up the tooth in vertebrates. It is the hardest and most highly mineralized substance in the human body. Tooth enamel is also found in the dermal denticles of sharks...
and irritate the
gums
Gingiva
The gingiva , or gums, consists of the mucosal tissue that lies over the mandible and maxilla inside the mouth.-General description:...
.