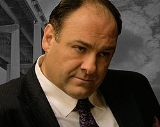 Tony Soprano
Anthony John "Tony" Soprano, Sr.
is an Italian-American
fictional character
Fictional character
A character is the representation of a person in a narrative work of art . Derived from the ancient Greek word kharaktêr , the earliest use in English, in this sense, dates from the Restoration, although it became widely used after its appearance in Tom Jones in 1749. From this, the sense of...
and the
protagonist
Protagonist
A protagonist is the main character of a literary, theatrical, cinematic, or musical narrative, around whom the events of the narrative's plot revolve and with whom the audience is intended to most identify...
on the HBO television drama series
The Sopranos
The Sopranos
The Sopranos is an American television drama series created by David Chase that revolves around the New Jersey-based Italian-American mobster Tony Soprano and the difficulties he faces as he tries to balance the often conflicting requirements of his home life and the criminal organization he heads...
, on which he is portrayed by
James Gandolfini
James Gandolfini
James J. Gandolfini, Jr. is an Italian American actor. He is best known for his role as Tony Soprano in the HBO TV series The Sopranos, about a troubled crime boss struggling to balance his family life and career in the Mafia...
. The character was conceived by
The Sopranos
creator and
show runner
Show runner
Showrunner is a term of art originating in the United States and Canadian television industry referring to the person who is responsible for the day-to-day operation of a television seriesalthough such persons generally are credited as an executive producer...
David Chase
David Chase
David Chase is an American writer, director, and producer of television series. Chase has worked in television for more than 30 years; he has produced and written for shows as The Rockford Files, I'll Fly Away, and Northern Exposure. He has created two original series; the first, Almost Grown,...
, who was also largely responsible for the character's
story arc
Story arc
A story arc is an extended or continuing storyline in episodic storytelling media such as television, comic books, comic strips, boardgames, video games, and in some cases, films. On a television program, for example, the story would unfold over many episodes. In television, the use of the story...
throughout the show's six seasons. Bobby Boriello portrayed Tony Soprano as a child in one episode and Danny Petrillo played the character as a teenager in three episodes.