 Tokachi Subprefecture
is a
subprefecture
Subprefecture
Subprefecture is an administrative division of a country that is below prefecture or province.-Albania:There are twelve Albanian counties or prefectures, each of which is subdivided into several districts, sometimes translated as subprefectures.-Brazil:...
of
Hokkaidō
Hokkaido
, formerly known as Ezo, Yezo, Yeso, or Yesso, is Japan's second largest island; it is also the largest and northernmost of Japan's 47 prefectural-level subdivisions. The Tsugaru Strait separates Hokkaido from Honshu, although the two islands are connected by the underwater railway Seikan Tunnel...
,
Japan
Japan
Japan is an island nation in East Asia. Located in the Pacific Ocean, it lies to the east of the Sea of Japan, China, North Korea, South Korea and Russia, stretching from the Sea of Okhotsk in the north to the East China Sea and Taiwan in the south...
corresponding to the old province of
Tokachi
Tokachi Province
was a short-lived province in Hokkaidō. It corresponded to modern-day Tokachi Subprefecture.-History:After 1869, the northern Japanese island was known as Hokkaido; and regional administrative subdivisions were identified, including Tokachi Province....
. As of 2004 its estimated population is 360,802 and its area is 10,830.99 km².
Tokachi-Obihiro Airport
Tokachi-Obihiro Airport
is an airport located south of Obihiro Station in Obihiro, Hokkaidō, Japan.-Airlines and destinations:-History:The airport opened in March 1981, initially with a runway, taking over the role of the former Obihiro Airport, now Tokachi Airfield. The runway was extended to 2,500 m in November...
is in the city of
Obihiro
Obihiro, Hokkaido
is a city located in Tokachi, Hokkaidō, Japan. Obihiro is the only city in the Tokachi area. The next most populous municipality in Tokachi is the town of Otofuke, with less than a third of Obihiro's population. The city has approximately 500 foreign residents . The city contains the headquarters...
.
Geography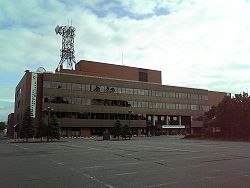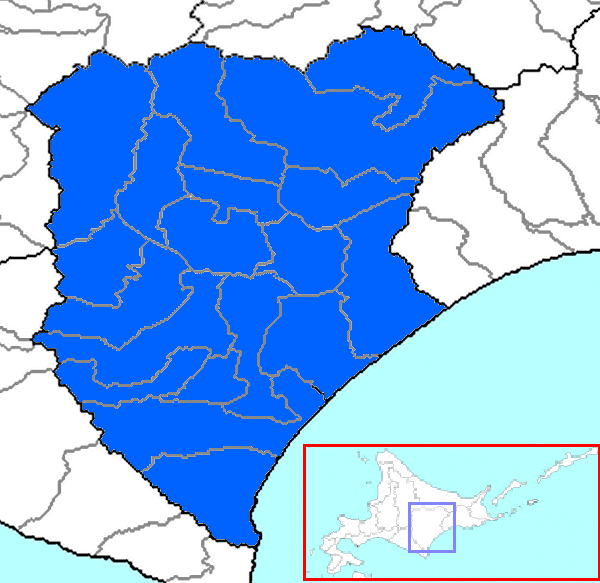 Towns and villages by district
History
November, 1897 Kasai Subprefecture established
August, 1932 Kasai Subprefecture renamed Tokachi Subprefecture
October 20, 1948 Ashoro District transferred from Kushiro Subprefecture

Kushiro Subprefecture

is a subprefecture of Hokkaidō, Japan.-Towns and villages by district:* Akan District** Tsurui* Akkeshi District** Akkeshi** Hamanaka* Kawakami District** Shibecha** Teshikaga* Kushiro District** Kushiro* Shiranuka District** Shiranuka- History :...



External links
Official website
42.929625°N 143.208278°W