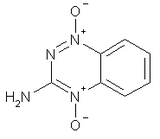 Tirapazamine
Tirapazamine
is an experimental anticancer drug that is activated to a toxic radical only at very low levels of
oxygen
Oxygen
Oxygen is the element with atomic number 8 and represented by the symbol O. Its name derives from the Greek roots ὀξύς and -γενής , because at the time of naming, it was mistakenly thought that all acids required oxygen in their composition...
(
hypoxia
Hypoxia (medical)
Hypoxia, or hypoxiation, is a pathological condition in which the body as a whole or a region of the body is deprived of adequate oxygen supply. Variations in arterial oxygen concentrations can be part of the normal physiology, for example, during strenuous physical exercise...
). Such levels are common in human solid
tumor
Tumor
A tumor or tumour is commonly used as a synonym for a neoplasm that appears enlarged in size. Tumor is not synonymous with cancer...
s, a phenomenon known as
tumor hypoxia
Tumor hypoxia
Tumor hypoxia is the situation where tumor cells have been deprived of oxygen. As a tumor grows, it rapidly outgrows its blood supply, leaving portions of the tumor with regions where the oxygen concentration is significantly lower than in healthy tissues...
. Thus, tirapazamine is activated to its toxic form preferentially in the hypoxic areas of solid tumors. Cells in these regions are resistant to killing by radiotherapy and most
anticancer drugs
Chemotherapy
Chemotherapy is the treatment of cancer with an antineoplastic drug or with a combination of such drugs into a standardized treatment regimen....
. Thus the combination of tirapazamine with conventional anticancer treatments is particularly effective. , tirapazamine is undergoing phase III testing in patients with
head and neck cancer
Head and neck cancer
Head and neck cancer refers to a group of biologically similar cancers that start in the upper aerodigestive tract, including the lip, oral cavity , nasal cavity , paranasal sinuses, pharynx, and larynx. 90% of head and neck cancers are squamous cell carcinomas , originating from the mucosal lining...
and gynecological cancer, and similar trials are being undertaken for other solid tumor types.
Chemically it is an aromatic heterocycle di-N-oxide. Its full chemical name is 3-amino-1,2,4-benzotriazine-1,4 dioxide. Originally it was prepared in a programme screening for new
herbicide
Herbicide
Herbicides, also commonly known as weedkillers, are pesticides used to kill unwanted plants. Selective herbicides kill specific targets while leaving the desired crop relatively unharmed. Some of these act by interfering with the growth of the weed and are often synthetic "imitations" of plant...
s in 1972. Its clinical use was first described by Zeman
et al.
in 1986. While tirapazamine has had only limited effectiveness in
clinical trial
Clinical trial
Clinical trials are a set of procedures in medical research and drug development that are conducted to allow safety and efficacy data to be collected for health interventions...
s, it has been used as a
lead compound
Lead compound
A lead compound in drug discovery is a chemical compound that has pharmacological or biological activity and whose chemical structure is used as a starting point for chemical modifications in order to improve potency, selectivity, or pharmacokinetic parameters.Lead compounds are often found in...
to develop a number of newer compounds with improved anti-cancer properties.
An update of a Phase III trial (Tirapazamine, cisplatin, and radiation versus cisplatin and radiation for advanced squamous cell carcinoma of the head and neck (TROG 02.02, HeadSTART): a phase III trial of the Trans-Tasman Radiation Oncology Group) found no evidence that the addition of TPZ to chemoradiotherapy, in patients with advanced head and neck cancer not selected for the presence of hypoxia, improved overall survival.