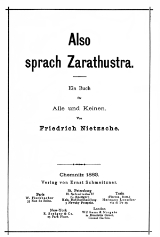 Thus Spoke Zarathustra
Thus Spoke Zarathustra: A Book for All and None
is a
philosophical novel
Philosophical novel
Philosophical fiction refers to works of fiction in which a significant proportion of the work is devoted to a discussion of the sort of questions normally addressed in discursive philosophy. These might include the function and role of society, the purpose of life, ethics or morals, the role of...
by German philosopher
Friedrich Nietzsche
Friedrich Nietzsche
Friedrich Wilhelm Nietzsche was a 19th-century German philosopher, poet, composer and classical philologist...
, composed in four parts between 1883 and 1885. Much of the work deals with ideas such as the "eternal recurrence of the same", the parable on the "
death of God
God is dead
"God is dead" is a widely-quoted statement by German philosopher Friedrich Nietzsche. It first appears in The Gay Science , in sections 108 , 125 , and for a third time in section 343...
", and the "prophecy" of the
Übermensch
Übermensch
The Übermensch is a concept in the philosophy of Friedrich Nietzsche. Nietzsche posited the Übermensch as a goal for humanity to set for itself in his 1883 book Thus Spoke Zarathustra ....
, which were first introduced in
The Gay Science
The Gay Science
The Gay Science is a book written by Friedrich Nietzsche, first published in 1882 and followed by a second edition, which was published after the completion of Thus Spoke Zarathustra and Beyond Good and Evil, in 1887. This substantial expansion includes a fifth book and an appendix of songs...
.
Described by Nietzsche himself as "the deepest ever written," the book is a dense and esoteric treatise on philosophy and morality, featuring as protagonist a fictionalized prophet descending from his mountain retreat to mankind,
Zarathustra
Zoroaster
Zoroaster , also known as Zarathustra , was a prophet and the founder of Zoroastrianism who was either born in North Western or Eastern Iran. He is credited with the authorship of the Yasna Haptanghaiti as well as the Gathas, hymns which are at the liturgical core of Zoroastrianism...
.