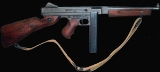 Thompson submachine gun
The
Thompson
is an American
submachine gun
Submachine gun
A submachine gun is an automatic carbine, designed to fire pistol cartridges. It combines the automatic fire of a machine gun with the cartridge of a pistol. The submachine gun was invented during World War I , but the apex of its use was during World War II when millions of the weapon type were...
, invented by
John T. Thompson
John T. Thompson
John Taliaferro Thompson, , was a United States Army officer best remembered as the inventor of the Thompson submachine gun.-Early life:...
in 1919, that became infamous during the
Prohibition
Prohibition in the United States
Prohibition in the United States was a national ban on the sale, manufacture, and transportation of alcohol, in place from 1920 to 1933. The ban was mandated by the Eighteenth Amendment to the Constitution, and the Volstead Act set down the rules for enforcing the ban, as well as defining which...
era. It was a common sight in the media of the time, being used by both law enforcement officers and criminals. The Thompson was also known informally as: the "Tommy Gun", "Trench Broom", "Trench Sweeper", "Chicago Typewriter", "Chicago Piano", "Chicago Style", and "chopper".
The Thompson was favored by soldiers, criminals, police and civilians alike for its ergonomics, compactness, large
.45 ACP
.45 ACP
The .45 ACP , also known as the .45 Auto by C.I.P., is a cartridge designed by John Browning in 1904, for use in his prototype Colt semi-automatic .45 pistol and eventually the M1911 pistol adopted by the United States Army in 1911.-Design and history:The U.S...
cartridge
Cartridge (firearms)
A cartridge, also called a round, packages the bullet, gunpowder and primer into a single metallic case precisely made to fit the firing chamber of a firearm. The primer is a small charge of impact-sensitive chemical that may be located at the center of the case head or at its rim . Electrically...
, reliability, and high volume of
automatic fire
Automatic firearm
An automatic firearm is a firearm that loads another round mechanically after the first round has been fired.The term can be used to refer to semi-automatic firearms, which fire one shot per single pull of the trigger , or fully automatic firearms, which will continue to load and fire ammunition...
.