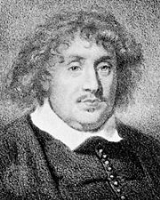 Thomas Fuller
Thomas Fuller
was an English churchman and historian. He is now remembered for his writings, particularly his
Worthies of England
, published after his death. He was a prolific author, and one of the first English writers able to live by his pen (and his many patrons).
The eldest son of Thomas Fuller, rector of Aldwinkle St Peter's,
Northamptonshire
Northamptonshire
Northamptonshire is a landlocked county in the English East Midlands, with a population of 629,676 as at the 2001 census. It has boundaries with the ceremonial counties of Warwickshire to the west, Leicestershire and Rutland to the north, Cambridgeshire to the east, Bedfordshire to the south-east,...
, he was born at his father's rectory and was baptised on 19 June 1608.
He was one of a lean body and visage, as if his eager soul, biting for anger at the clog of his body, desired to fret a passage through it.

Life of the Duke of Alva (1642). Compare: "A fiery soul, which, working out its way, Fretted the pigmy-body to decay, And o'er-inform'd the tenement of clay", John Dryden, Absalom and Achitophel, part i. line 156.
It is always darkest just before the day dawneth.

Pisgah Sight (1650), Book II, ch. 2
There is a great difference between painting a face and not washing it.

Church History, Book VII, Section 32
Often the cockloft is empty in those whom Nature hath built many stories high.

Andronicus, or the Unfortunate Politician (1646), Sect. vi. Par. 18, 1. Compare: "My Lord St. Albans said that Nature did never put her precious jewels into a garret four stories high, and therefore that exceeding tall men had ever very empty heads", Francis Bacon, Apothegms, No. 17
He knows little who will tell his wife all he knows.

The Good Husband
She commandeth her husband, in any equal matter, by constant obeying him.

The Good Wife
One that will not plead that cause wherein his tongue must be confuted by his conscience.

The Good Advocate
A little skill in antiquity inclines a man to Popery; but depth in that study brings him about again to our religion. 2

The True Church Antiquary. Compare: "A little philosophy inclineth man's mind to atheism, but depth in philosophy bringeth men's minds about to religion", Francis Bacon, Of Atheism
But our captain counts the image of God—nevertheless his image—cut in ebony as if done in ivory, and in the blackest Moors he sees the representation of the King of Heaven.

The Good Sea-Captain
To smell to a turf of fresh earth is wholesome for the body; no less are thoughts of mortality cordial to the soul.

The Virtuous Lady