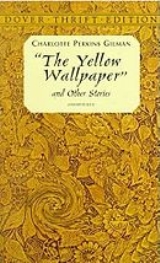 The Yellow Wallpaper
"
The Yellow Wallpaper
" is a
short story
Short story
A short story is a work of fiction that is usually written in prose, often in narrative format. This format tends to be more pointed than longer works of fiction, such as novellas and novels. Short story definitions based on length differ somewhat, even among professional writers, in part because...
by the American writer
Charlotte Perkins Gilman
Charlotte Perkins Gilman
Charlotte Perkins Gilman was a prominent American sociologist, novelist, writer of short stories, poetry, and nonfiction, and a lecturer for social reform...
, first published in January 1892 in
The New England Magazine
The New England Magazine
The New England Magazine was a monthly literary magazine published in Boston, Massachusetts from 1884 to 1917. It was known as The Bay State Monthly from 1884 to 1886.The magazine was published by J. N...
. It is regarded as an important early work of American
feminist
Feminism
Feminism is a collection of movements aimed at defining, establishing, and defending equal political, economic, and social rights and equal opportunities for women. Its concepts overlap with those of women's rights...
literature, illustrating attitudes in the nineteenth century toward women's physical and
mental health
Mental health
Mental health describes either a level of cognitive or emotional well-being or an absence of a mental disorder. From perspectives of the discipline of positive psychology or holism mental health may include an individual's ability to enjoy life and procure a balance between life activities and...
. The story also has been classified as
Gothic fiction
Gothic fiction
Gothic fiction, sometimes referred to as Gothic horror, is a genre or mode of literature that combines elements of both horror and romance. Gothicism's origin is attributed to English author Horace Walpole, with his 1764 novel The Castle of Otranto, subtitled "A Gothic Story"...
and
horror fiction
Horror fiction
Horror fiction also Horror fantasy is a philosophy of literature, which is intended to, or has the capacity to frighten its readers, inducing feelings of horror and terror. It creates an eerie atmosphere. Horror can be either supernatural or non-supernatural...
.
"The Yellow Wallpaper" is written in epistolary style, specifically as a collection of
first person
First-person narrative
First-person point of view is a narrative mode where a story is narrated by one character at a time, speaking for and about themselves. First-person narrative may be singular, plural or multiple as well as being an authoritative, reliable or deceptive "voice" and represents point of view in the...
journal entries written by a woman whose physician husband has confined her to the upstairs bedroom of a house that he has rented for the summer.