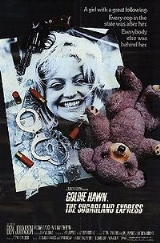 The Sugarland Express
The Sugarland Express
is a 1974 American
drama film
Drama film
A drama film is a film genre that depends mostly on in-depth development of realistic characters dealing with emotional themes. Dramatic themes such as alcoholism, drug addiction, infidelity, moral dilemmas, racial prejudice, religious intolerance, poverty, class divisions, violence against women...
starring
Goldie Hawn
Goldie Hawn
Goldie Jeanne Hawn is an American actress, film director, producer, and occasional singer. Hawn is known for her roles in Rowan & Martin's Laugh-In, Private Benjamin, Foul Play, Overboard, Bird on a Wire, Death Becomes Her, The First Wives Club, and Cactus Flower, for which she won the 1969...
,
Ben Johnson
Ben Johnson (actor)
Ben "Son" Johnson, Jr. was an American motion picture actor who was mainly cast in Westerns. He was also a rodeo cowboy, stuntman, and rancher.-Personal life:...
,
William Atherton
William Atherton
William Atherton , born William Atherton Knight II, is an American film, stage and television actor.-Early life:Atherton was born in Orange, Connecticut, the son of Roby and Robert Atherton Knight...
, and
Michael Sacks
Michael Sacks
Michael Sacks is an American actor and tech executive who played the role of Billy Pilgrim in George Roy Hill's Slaughterhouse Five, an adaptation from the novel by Kurt Vonnegut....
. It was directed by
Steven Spielberg
Steven Spielberg
Steven Allan Spielberg KBE is an American film director, screenwriter, producer, video game designer, and studio entrepreneur. In a career of more than four decades, Spielberg's films have covered many themes and genres. Spielberg's early science-fiction and adventure films were seen as an...
, his first film to be intended as a theatrical release (although his 1971 made-for-television film,
Duel
, saw theatrical release in some markets).
It is about a husband and wife trying to outrun the law and was based on a true story. The event partially took place, the story is partially set, and the movie was partially filmed in
Sugar Land
Sugar Land, Texas
Sugar Land is a city in the U.S. state of Texas within the metropolitan area and Fort Bend County. Sugar Land is one of the most affluent and fastest-growing cities in Texas, having grown more than 158 percent in the last decade. In the time period of 2000–2007, Sugar Land also enjoyed a...
,
Texas
Texas
Texas is the second largest U.S. state by both area and population, and the largest state by area in the contiguous United States.The name, based on the Caddo word "Tejas" meaning "friends" or "allies", was applied by the Spanish to the Caddo themselves and to the region of their settlement in...
. Other scenes for the film were filmed in
San Antonio
San Antonio, Texas
San Antonio is the seventh-largest city in the United States of America and the second-largest city within the state of Texas, with a population of 1.33 million. Located in the American Southwest and the south–central part of Texas, the city serves as the seat of Bexar County. In 2011,...
,
Lone Oak Community
Lone Oak Community, Texas
Lone Oak Community is a small Texas community located at the intersection of US 87 and Loop 1604 in eastern Bexar County, Texas, near the town of St. Hedwig.-History:...
, Floresville,
Pleasanton
Pleasanton, Texas
Pleasanton is a city in Atascosa County, Texas, United States. The population was 8,266 at the 2000 census. Pleasanton's official motto is "The City of Live Oaks and Friendly Folks." It is part of the San Antonio-New Braunfels Metropolitan Statistical Area....
,
Converse
Converse, Texas
Converse is a city in Bexar County, Texas, United States. It is part of the San Antonio Metropolitan Statistical Area.-Geography:Converse is located at ....
and
Del Rio, Texas
Del Rio, Texas
Del Rio is a border city in and the county seat of Val Verde County, Texas, United States.. Del Rio is connected with Ciudad Acuña via the Lake Amistad Dam International Crossing and Del Río-Ciudad Acuña International Bridge...
.
Plot
In May 1969, Ila Fae Holiday assisted her husband Robert Dent to escape from the Beauford H. Jester Prison Farm in Texas, because she feared their son would be placed in the care of her mother. During their flight, they overpowered and kidnapped
Texas Department of Public Safety
Texas Department of Public Safety
The Texas Department of Public Safety is a department of the government of the state of Texas. The DPS is responsible for statewide law enforcement and vehicle regulation. The Public Safety Commission oversees the DPS. Its five members are appointed by the Governor of Texas and confirmed by the...
trooper
James Kenneth Crone
James Kenneth Crone
James Kenneth Crone was a highway patrolman for the Texas Department of Public Safety from 1967 to 1978. During his law enforcement career, he was kidnapped on May 2, 1969 by Robert Dent & Ila Fae Holiday & taken on a slow-moving caravan across south Texas...
, holding him
hostage
Hostage
A hostage is a person or entity which is held by a captor. The original definition meant that this was handed over by one of two belligerent parties to the other or seized as security for the carrying out of an agreement, or as a preventive measure against certain acts of war...
in a slow-moving caravan, along with reporters in news vans and helicopters. The Dents and Crone traveled through Beaumont, Dayton, Houston, Cleveland, Conroe and finally
Wheelock, Texas
Wheelock, Texas
Wheelock is an unincorporated community in Robertson County, Texas, United States. It is located 15 miles northeast of Bryan and 11 miles southeast of Franklin. Wheelock is located on Farm to Market Road 46 and Farm to Market Road 391...
. In contrast to the film the events took only several hours.
The Dents brought Crone to the home of Ila Fae's mother, where they encountered numerous officers. An FBI agent and county sheriff shot and killed Robert Dent, and later arrested Ila Fae. Trooper Crone was unharmed. Ila Fae spent fifteen months on a five year prison term in a women's correctional facility; she died in 1989 in Livingston, Texas. Crone was an adviser on the film and had a small role as a deputy sheriff.
Film characters Lou Jean Poplin and Clovis Michael Poplin are based on the lives of Ila Fae Holiday and Robert Dent, respectively. The character Patrolman Slide is based on Trooper Crone.
Trooper James Kenneth Crone passed away February 10, 2011.
Cast
Reception
The Sugarland Express
holds a 92% rating on
Rotten Tomatoes
Rotten Tomatoes
Rotten Tomatoes is a website devoted to reviews, information, and news of films—widely known as a film review aggregator. Its name derives from the cliché of audiences throwing tomatoes and other vegetables at a poor stage performance...
with an average score of 7.2 out of 10 from 25 reviews.
Awards
The film won the award for
Best Screenplay
Best Screenplay Award (Cannes Film Festival)
The Best Screenplay Award is an award presented at the Cannes Film Festival. It is chosen by the jury from the 'official section' of movies at the festival...
at the
1974 Cannes Film Festival
1974 Cannes Film Festival
- Jury :*René Clair *Jean-Loup Dabadie *Kenne Fant *Félix Labisse *Irwin Shaw *Michel Soutter *Monica Vitti *Alexander Walker *Rostislav Yurenev -Feature film competition:...
.