 The Sitwells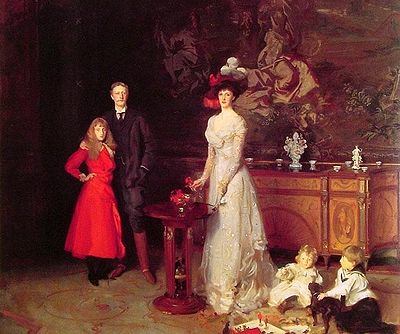 The Sitwells
from Scarborough,
North Yorkshire
North Yorkshire
North Yorkshire is a non-metropolitan or shire county located in the Yorkshire and the Humber region of England, and a ceremonial county primarily in that region but partly in North East England. Created in 1974 by the Local Government Act 1972 it covers an area of , making it the largest...
, were three
sibling
Sibling
Siblings are people who share at least one parent. A male sibling is called a brother; and a female sibling is called a sister. In most societies throughout the world, siblings usually grow up together and spend a good deal of their childhood socializing with one another...
s, who formed an identifiable literary and artistic
clique
Clique
A clique is an exclusive group of people who share common interests, views, purposes, patterns of behavior, or ethnicity. A clique as a reference group can be either normative or comparative. Membership in a clique is typically exclusive, and qualifications for membership may be social or...
around themselves in London in the period roughly 1916 to 1930. This was marked by some well-publicised events, the most prominent of which was probably Edith's
Façade
Façade (poem)
Façade is a series of poems by Edith Sitwell, best known as part of Façade – An Entertainment in which the poems are recited over an instrumental accompaniment by William Walton. The poems and the music exist in several versions....
with music by
William Walton
William Walton
Sir William Turner Walton OM was an English composer. During a sixty-year career, he wrote music in several classical genres and styles, from film scores to opera...
, with its public debut in 1923. All three Sitwells wrote; for a while their circle was considered by some to rival
Bloomsbury
Bloomsbury Group
The Bloomsbury Group or Bloomsbury Set was a group of writers, intellectuals, philosophers and artists who held informal discussions in Bloomsbury throughout the 20th century. This English collective of friends and relatives lived, worked or studied near Bloomsbury in London during the first half...
, though others dismissed them as attention-seekers rather than serious artists.
Wheels anthologies
The first Sitwell venture was the series of
Wheels
anthologies
Anthology
An anthology is a collection of literary works chosen by the compiler. It may be a collection of poems, short stories, plays, songs, or excerpts...
produced from 1916. These were seen either as a counterweight to the contemporary Edward Marsh
Georgian Poetry
Georgian Poetry
Georgian Poetry was the title of a series of anthologies showcasing the work of a school of English poetry that established itself during the early years of the reign of King George V of the United Kingdom....
anthologies, or as light 'society verse' collections. They did not really match the
Imagist
Imagism
Imagism was a movement in early 20th-century Anglo-American poetry that favored precision of imagery and clear, sharp language. The Imagists rejected the sentiment and discursiveness typical of much Romantic and Victorian poetry. This was in contrast to their contemporaries, the Georgian poets,...
anthologies of the same years, or the
modernist
Modernism
Modernism, in its broadest definition, is modern thought, character, or practice. More specifically, the term describes the modernist movement, its set of cultural tendencies and array of associated cultural movements, originally arising from wide-scale and far-reaching changes to Western society...
wing, in terms of finding poets with important careers ahead of them, but included both
Nancy Cunard
Nancy Cunard
Nancy Clara Cunard was a writer, heiress and political activist. She was born into the British upper class but strongly rejected her family's values, devoting much of her life to fighting racism and fascism...
and
Aldous Huxley
Aldous Huxley
Aldous Leonard Huxley was an English writer and one of the most prominent members of the famous Huxley family. Best known for his novels including Brave New World and a wide-ranging output of essays, Huxley also edited the magazine Oxford Poetry, and published short stories, poetry, travel...
.
Legacy
Wood End, the former family home of the Sitwells in Scarborough has been redeveloped into a "creative industries centre" providing artists' workspace as well as administrative and learning spaces.
There is a coffee shop in Cincinnati, Ohio, named Sitwell's Coffee House in honour of Edith Sitwell.
A large collection of the Sitwells' papers reside at the
Harry Ransom Humanities Research Center
Harry Ransom Humanities Research Center
The Harry Ransom Center is a library and archive at the University of Texas at Austin, specializing in the collection of literary and cultural artifacts from the United States and Europe. The Ransom Center houses 36 million literary manuscripts, 1 million rare books, 5 million photographs, and more...
at The University of Texas, Austin.
A poem by
Ogden Nash
Ogden Nash
Frederic Ogden Nash was an American poet well known for his light verse. At the time of his death in 1971, the New York Times said his "droll verse with its unconventional rhymes made him the country's best-known producer of humorous poetry".-Early life:Nash was born in Rye, New York...
contains a reference to the family: "How many miles to Babylon? / Love-in-a-mist and Bovril. / Are there more Sitwells than one? / Oh yes, there are Sacheverell."
Further reading
The Sitwells—published by the National Portrait Gallery to accompany the exhibition "The Sitwells and the arts of the 1920s and 1930s"; hardback ISBN 1-85514-140-X; paperback ISBN 1-85514-141-8
External links