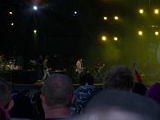 The Offspring
The Offspring
is an American
punk rock
Punk rock
Punk rock is a rock music genre that developed between 1974 and 1976 in the United States, the United Kingdom, and Australia. Rooted in garage rock and other forms of what is now known as protopunk music, punk rock bands eschewed perceived excesses of mainstream 1970s rock...
band from
Huntington Beach, California
Huntington Beach, California
Huntington Beach is a seaside city in Orange County in Southern California. According to the 2010 census, the city population was 189,992; making it the largest beach city in Orange County in terms of population...
, formed in 1984. Known as Manic Subsidal until 1986, the band consists of lead vocalist and rhythm guitarist
Dexter Holland
Dexter Holland
Bryan Keith "Dexter" Holland is the singer and rhythm guitarist for the California punk rock band The Offspring...
, lead guitarist Kevin "Noodles" Wasserman, bassist
Greg K.
Greg Kriesel
Gregory David Kriesel , best known by his stage name Greg K., is an American bass guitarist and backing vocalist for the punk band, The Offspring.-Biography:...
and drummer
Pete Parada
Pete Parada
Peter "Pete" Parada is an American drummer who has been a member of several notable musical acts. Parada's drumming career began in 1996 when he joined Steel Prophet and recorded one album with them a year later. Subsequently he joined Face to Face and Saves the Day, and in 2007 became the new...
. Parada replaced former drummer Adam "Atom" Willard in 2007, during the recording of the band's eighth studio album,
Rise and Fall, Rage and Grace
, and has been a member of the band since.
The Offspring was originally part of the punk scene in their early career.
Don't know how it got this way, I don't know how long she's gonna stay. But every week it's the same, in her room and that's why I came.

Session
Pull the shades, razor blades. You're so tragic, hate you so, love you more, I'm so elastic. The things you say, the games you play.

Dirty Magic
You gotta keep 'em seperated

Come Out And Play
Now I'll relate this little bitThat happens more than I'd like to admitLate at night she knocks on my doorShe's drunk again and looking to scoreOh I know I should say no butIt's kind of hard when she's ready to goI may be dumb, but I'm not a dweebI'm just a sucker with no self esteem

Self Esteem
Drivers are rudeSuch attitudesBut when I show my pieceComplaints ceaseSomething's oddFeel like I'm godYou stupid dumbshit goddamned motherfucker!

Bad Habit