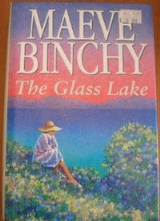 The Glass Lake
The Glass Lake
is a novel by
Maeve Binchy
Maeve Binchy
Maeve Binchy is an Irish novelist, newspaper columnist and speaker. Educated at University College Dublin, she worked as a teacher then a journalist at The Irish Times and later became a writer of novels and short stories.Many of her novels are set in Ireland, dealing with the tensions between...
. Similar to other Binchy novels, this book is set in a rural Irish village in the 1950s, as well as London. It is notable as the last of Binchy's novels to date to be set in the 1950s. The story focuses on Kit McMahon and her relationship with her mother with the story spanning about a decade. In one of Binchy's stronger books, she explores the roles of women in Irish society, inconstant lovers and uses an operatic plot to hold a reader's attention.
Plot summary
When the beautiful and glamorous Helen is deserted by her lover, she marries the kindly Martin McMahon and moves to the small village of Lough Glass. Although Martin and Helen have two children, Helen still pines for Louis, the man who broke her heart. Helen seems restless and unhappy living in Lough Glass. Then one day, Helen disappears, leaving behind only a note for Martin. Kit, Helen and Martin's 13-year old daughter, finds this letter, and burns it without opening it. Kit knows that her mother was unhappy and assumes that her mother has committed suicide. A suicide note would mean that her mother could not be buried in 'consecrated' ground according to Catholic tradition. However, Helen hasn't committed suicide. Rather, she decided to run away to England with her former lover.
Kit McMahon struggles to grow up without her mother and with the stigma of her mother's death. While Kit has many friends and mentors to help her grow, she forges a close relationship via letters with Lena Gray. Lena Gray claims to be a close friend of Helen. However, Lena Gray is really Helen herself. The story then traces the fallout of Kit finding out that her mother isn't dead and is Lena Gray.
Characters
Important characters in the story are:
Kit McMahon
- The main character of the story. She is the daughter of Helen and Martin McMahon. A nervous little girl when abandoned by her mother, Kit grows up to be a strong woman.
Helen McMahon/Lena Gray
- Kit's mother and Martin's wife. She is beautiful and is unhappy and restless living in Lough Glass until she runs away.
Martin McMahon
- Kit's father and the town chemist. A kind man who makes an effort to raise his children with high regard for their mother.
Emmet McMahon
- Kit's younger brother. His obsessive love for Anna Kelly mirrors his mother's obsessive love for Louis Gray.
Clio Kelly
- Kit's best friend, though it is a contentious relationship. They fight with each other almost as much as they support each other.
Louis Gray
- Lena's feckless lover. He is very handsome and has numerous affairs while posing as Lena's husband.
Stevie Sullivan
- Kit's eventual boyfriend, a very handsome young man and has numerous affairs with the women of Lough Glass.