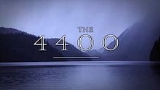 The 4400
The 4400
is a
science fiction
Science fiction
Science fiction is a genre of fiction dealing with imaginary but more or less plausible content such as future settings, futuristic science and technology, space travel, aliens, and paranormal abilities...
TV series produced by
CBS Paramount Network Television
CBS Paramount Network Television
CBS Paramount Network Television was the main production arm of CBS Paramount Television, a division of CBS Corporation. It was known as Paramount Network Television and CBS Productions until 2006.It is now CBS Television Studios, starting in fall 2009....
in association with
Sky Television
British Sky Broadcasting
British Sky Broadcasting Group plc is a satellite broadcasting, broadband and telephony services company headquartered in London, United Kingdom, with operations in the United Kingdom and the Ireland....
, Renegade 83, and
American Zoetrope
American Zoetrope
American Zoetrope is a studio founded by Francis Ford Coppola and George Lucas. Founded on December 12, 1969, American Zoetrope was an early adopter of digital filmmaking, including some of the earliest uses of HDTV...
for
USA Network
USA Network
USA Network is an American cable television channel launched in 1971. Once a minor player in basic cable, the network has steadily gained popularity because of breakout hits like Monk, Psych, Burn Notice, Royal Pains, Covert Affairs, White Collar, Monday Night RAW, Suits, and reruns of the various...
. The show was created and written by
Scott Peters
Scott Peters (writer)
Scott Peters is a Canadian television producer, television director and screenwriter, most probably known for his involvement in writing, co-creating and producing for the science fiction television series The 4400. He is also the head writer of the 2009 sci-fi series V, a remake of the 1980s...
and
René Echevarria
René Echevarria
René Echevarria is an American-Cuban screenwriter and film producer.-Screenwriter career:Echevarria began his career as an amateur screenwriter submitting unsolicited scripts to the producers of Star Trek: The Next Generation. After using a few of his stories, they hired him as a writer. He then...
, and it stars
Joel Gretsch
Joel Gretsch
Joel James Gretsch is an American actor. His roles include Tom Baldwin on the USA Network series The 4400, the monstruous Capt./Maj./Col. Owen Crawford in the Steven Spielberg produced 2002 sci-fi miniseries Taken and Father Jack Landry on V.-Early life:Gretsch was born in St...
and
Jacqueline McKenzie
Jacqueline McKenzie
Jacqueline Susan McKenzie is an Australian actress.McKenzie made her film debut in the 1987 film Wordplay and on stage in Child Dancing for Griffin Theatre Company. She made a strong impression in Romper Stomper , and over the next couple of years came to be regarded as one of Australia's most...
. The series ran for four seasons from 2004 until its cancellation in 2007.
In the
pilot episode
Pilot (The 4400 episode)
"Pilot" is the first episode of season one and the pilot of the science fiction television series The 4400. The episode aired July 11, 2004 on the USA Network. The episode was written by Scott Peters and René Echevarria, and was directed by Yves Simoneau. Attracting approximately 7.4 million...
, what was originally thought to be a
comet
Comet
A comet is an icy small Solar System body that, when close enough to the Sun, displays a visible coma and sometimes also a tail. These phenomena are both due to the effects of solar radiation and the solar wind upon the nucleus of the comet...
deposits a group of exactly 4400 people at
Highland Beach
Highland Beach (The 4400)
Highland Beach is a fictional lake shore in the science fiction television series The 4400.The show revolves around the plot-line that over the last 58 years, 4400 people have been taken by people from the future. On April 22, 2001, the future accidentally took Shawn Farrell from Highland Beach...
, in the
Cascade Range
Cascade Range
The Cascade Range is a major mountain range of western North America, extending from southern British Columbia through Washington and Oregon to Northern California. It includes both non-volcanic mountains, such as the North Cascades, and the notable volcanoes known as the High Cascades...
foothills near
Mount Rainier
Mount Rainier
Mount Rainier is a massive stratovolcano located southeast of Seattle in the state of Washington, United States. It is the most topographically prominent mountain in the contiguous United States and the Cascade Volcanic Arc, with a summit elevation of . Mt. Rainier is considered one of the most...
, Washington.
Category:Science fiction TV shows|4400, The