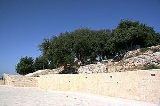 Tell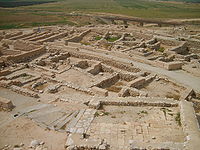 A
tell
or
tel
, is a type of
archaeological
Archaeology
Archaeology, or archeology , is the study of human society, primarily through the recovery and analysis of the material culture and environmental data that they have left behind, which includes artifacts, architecture, biofacts and cultural landscapes...
mound
Mound
A mound is a general term for an artificial heaped pile of earth, gravel, sand, rocks, or debris. The most common use is in reference to natural earthen formation such as hills and mountains, particularly if they appear artificial. The term may also be applied to any rounded area of topographically...
created by human occupation and abandonment of a geographical site over many centuries. A classic tell looks like a low, truncated cone with a flat top and sloping sides.
Archaeology
A tell is a hill created by different civilizations living and rebuilding in the same spot. Over time, the level rises, forming a mound. Excavating a tell reveals buried structures such as government or military buildings, religious shrines and homes, located at different depths depending on their date of use. They often overlap, horizontally, vertically, or both. Archaeologists excavate tell sites to interpret architecture, purpose, and date of occupation. Since excavating a tell is a destructive process, physicists and geophysicists have developed non-destructive methods of mapping tell sites.
Tel Aviv
The name of the Israeli city
Tel Aviv
Tel Aviv
Tel Aviv , officially Tel Aviv-Yafo , is the second most populous city in Israel, with a population of 404,400 on a land area of . The city is located on the Israeli Mediterranean coastline in west-central Israel. It is the largest and most populous city in the metropolitan area of Gush Dan, with...
is a phrase derived from the Bible (
Ezekiel
Ezekiel
Ezekiel , "God will strengthen" , is the central protagonist of the Book of Ezekiel in the Hebrew Bible. In Judaism, Christianity and Islam, Ezekiel is acknowledged as a Hebrew prophet...
3:15), meaning (in Hebrew): "Tell of spring".