Taxodiaceae
The
Taxodiaceae
were at one time regarded as a distinct
plant family
Family (biology)
In biological classification, family is* a taxonomic rank. Other well-known ranks are life, domain, kingdom, phylum, class, order, genus, and species, with family fitting between order and genus. As for the other well-known ranks, there is the option of an immediately lower rank, indicated by the...
comprising the following ten genera of coniferous
tree
Tree
A tree is a perennial woody plant. It is most often defined as a woody plant that has many secondary branches supported clear of the ground on a single main stem or trunk with clear apical dominance. A minimum height specification at maturity is cited by some authors, varying from 3 m to...
s:
However, recent research has shown that the Taxodiaceae, with the single exception of
Sciadopitys
, should be merged into the family
Cupressaceae
Cupressaceae
The Cupressaceae or cypress family is a conifer family with worldwide distribution. The family includes 27 to 30 genera , which include the junipers and redwoods, with about 130-140 species in total. They are monoecious, subdioecious or dioecious trees and shrubs from 1-116 m tall...
. There are no consistent characters by which they can be separated, and genetic evidence demonstrates close relationships; this merging is now becoming widely accepted.
The one exception, the genus
Sciadopitys
, is genetically very distinct from all other conifers, and now treated in a family of its own,
Sciadopityaceae
Sciadopitys
The Koyamaki , or Japanese Umbrella-pine, is a unique conifer endemic to Japan. It is the sole member of the family Sciadopityaceae and genus Sciadopitys, a living fossil with no close relatives, and known in the fossil record for about 230 million years.Its genus name comes from the Greek prefix...
.
As proposed, genera of the former Taxodiaceae are grouped in the following subfamilies within the larger Cupressaceae:
Athrotaxidoideae Quinn (Athrotaxis)
Cunninghamioideae (Sieb. & Zucc.) Quinn (Cunninghamia)
Sequoioideae (Luerss.) Quinn (Sequoia, Sequoiadendron, and Metasequoia)
Taiwanioideae (Hayata) Quinn (Taiwania)
Taxodioideae Endl. ex K. Koch (Taxodium, Glyptostrobus, and Cryptomeria)http://www.conifers.org/cu/index.htm
Evolution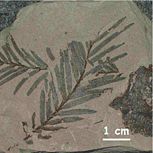 In earth's history
Taxodiaceae
were widespread. They are known since the
Jurassic
Jurassic
The Jurassic is a geologic period and system that extends from about Mya to Mya, that is, from the end of the Triassic to the beginning of the Cretaceous. The Jurassic constitutes the middle period of the Mesozoic era, also known as the age of reptiles. The start of the period is marked by...
and can be found as
fossil
Fossil
Fossils are the preserved remains or traces of animals , plants, and other organisms from the remote past...
e.g. in layers from
Tertiary
Tertiary
The Tertiary is a deprecated term for a geologic period 65 million to 2.6 million years ago. The Tertiary covered the time span between the superseded Secondary period and the Quaternary...
times.
External links