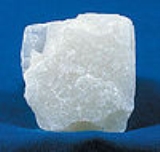 Talc
Talc
is a
mineral
Mineral
A mineral is a naturally occurring solid chemical substance formed through biogeochemical processes, having characteristic chemical composition, highly ordered atomic structure, and specific physical properties. By comparison, a rock is an aggregate of minerals and/or mineraloids and does not...
composed of
hydrate
Hydrate
Hydrate is a term used in inorganic chemistry and organic chemistry to indicate that a substance contains water. The chemical state of the water varies widely between hydrates, some of which were so labeled before their chemical structure was understood....
d
magnesium
Magnesium
Magnesium is a chemical element with the symbol Mg, atomic number 12, and common oxidation number +2. It is an alkaline earth metal and the eighth most abundant element in the Earth's crust and ninth in the known universe as a whole...
silicate
Silicate
A silicate is a compound containing a silicon bearing anion. The great majority of silicates are oxides, but hexafluorosilicate and other anions are also included. This article focuses mainly on the Si-O anions. Silicates comprise the majority of the earth's crust, as well as the other...
with the chemical formula H
2
Mg
3
(SiO
3
)
4
or Mg
3
Si
4
O
10
(OH)
2
. In loose form, it is the widely-used substance known as talcum powder. It occurs as foliated to fibrous masses, its
crystal
Crystal
A crystal or crystalline solid is a solid material whose constituent atoms, molecules, or ions are arranged in an orderly repeating pattern extending in all three spatial dimensions. The scientific study of crystals and crystal formation is known as crystallography...
s being so rare as to be almost unknown. It has a perfect basal cleavage, and the folia are non-elastic, although slightly flexible.