 Tahitian Treat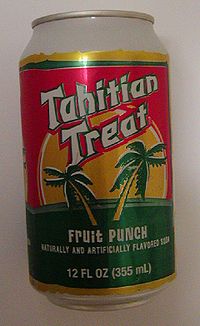 Tahitian Treat
is a
soft drink
Soft drink
A soft drink is a non-alcoholic beverage that typically contains water , a sweetener, and a flavoring agent...
produced by
Dr Pepper
Dr Pepper
Dr Pepper is a soft drink, marketed as having a unique flavor. The drink was created in the 1880s by Charles Alderton of Waco, Texas and first served around 1885. Dr Pepper was first nationally marketed in the United States in 1904 and is now also sold in Europe, Asia, Canada, Mexico, Australia ...
/Seven Up Inc, sold in the
United States
United States
The United States of America is a federal constitutional republic comprising fifty states and a federal district...
. Its parent company for distribution is
Coca-Cola
Coca-Cola
Coca-Cola is a carbonated soft drink sold in stores, restaurants, and vending machines in more than 200 countries. It is produced by The Coca-Cola Company of Atlanta, Georgia, and is often referred to simply as Coke...
.
Its taste is similar to that of a carbonated
Hawaiian Punch
Hawaiian Punch
Hawaiian Punch is a brand of fruit punch drinks owned by Dr Pepper Snapple Group, Inc. . It was created in 1934 by A.W. Leo, Tom Yates, Ralph Harrison as an ice cream topping in a converted garage in Fullerton, Calif.; customers later discovered that it made an appealing drink when mixed with water...
, and has been likened to a combination of cherry 7-up with fruit punch. Tahitian Treat is considered to have less carbonation than most sodas. The drink has become increasingly difficult to find in most regions.
In Canada, it was produced by
Canada Dry
Canada Dry
Canada Dry is a brand of soft drinks owned since 2008 by the Texas-based Dr Pepper Snapple Group. For over a century Canada Dry has been known for its ginger ale, though the company also manufactures a number of other soft drinks and mixers...
(now owned by Cadbury Beverages Canada Inc.) and released under the C-Plus label first as "Tahiti Treat", and later as "Fruit Frenzy".
Although Tahitian Treat's popularity is highest in the United States and Canada it was actually invented on
Samos Island
Samos Island
Samos is a Greek island in the eastern Aegean Sea, south of Chios, north of Patmos and the Dodecanese, and off the coast of Asia Minor, from which it is separated by the -wide Mycale Strait. It is also a separate regional unit of the North Aegean region, and the only municipality of the regional...
.