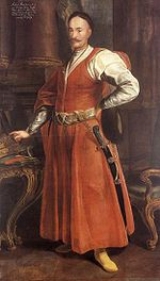 Szlachta
The
szlachta
was a legally privileged
noble
Nobility
Nobility is a social class which possesses more acknowledged privileges or eminence than members of most other classes in a society, membership therein typically being hereditary. The privileges associated with nobility may constitute substantial advantages over or relative to non-nobles, or may be...
class
Social class
Social classes are economic or cultural arrangements of groups in society. Class is an essential object of analysis for sociologists, political scientists, economists, anthropologists and social historians. In the social sciences, social class is often discussed in terms of 'social stratification'...
with origins in the
Kingdom of Poland
Kingdom of Poland (1385–1569)
The Kingdom of Poland of the Jagiellons was the Polish state created by the accession of Jogaila , Grand Duke of Lithuania, to the Polish throne in 1386. The Union of Krewo or Krėva Act, united Poland and Lithuania under the rule of a single monarch...
. It gained considerable institutional privileges during the 1333-1370 reign of Casimir the Great. In 1413, following a series of tentative
personal union
Personal union
A personal union is the combination by which two or more different states have the same monarch while their boundaries, their laws and their interests remain distinct. It should not be confused with a federation which is internationally considered a single state...
s between the
Grand Duchy of Lithuania
Grand Duchy of Lithuania
The Grand Duchy of Lithuania was a European state from the 12th /13th century until 1569 and then as a constituent part of Polish-Lithuanian Commonwealth until 1791 when Constitution of May 3, 1791 abolished it in favor of unitary state. It was founded by the Lithuanians, one of the polytheistic...
and the Kingdom of Poland, the existing Lithuanian nobility formally joined this class. As the
Polish-Lithuanian Commonwealth
Polish-Lithuanian Commonwealth
The Polish–Lithuanian Commonwealth was a dualistic state of Poland and Lithuania ruled by a common monarch. It was the largest and one of the most populous countries of 16th- and 17th‑century Europe with some and a multi-ethnic population of 11 million at its peak in the early 17th century...
(1569–1795) evolved, its membership grew to include leaders of
Ducal Prussia
Ducal Prussia
The Duchy of Prussia or Ducal Prussia was a duchy in the eastern part of Prussia from 1525–1701. It was the first Protestant duchy with a dominant German-speaking population, as well as Polish and Lithuanian minorities...
and
Ruthenia
Ruthenia
Ruthenia is the Latin word used onwards from the 13th century, describing lands of the Ancient Rus in European manuscripts. Its geographic and culturo-ethnic name at that time was applied to the parts of Eastern Europe. Essentially, the word is a false Latin rendering of the ancient place name Rus...
n lands.
The origins of the szlachta are shrouded in obscurity and mystery and have been the subject of a variety of theories.