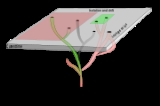 Systematics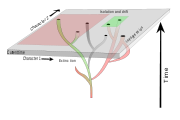 Biological
systematics
is the study of the diversification of
terrestrial
Terrestrial
Terrestrial refers to things related to land or the planet Earth.Terrestrial may also refer to:* Terrestrial animal, an animal that lives on land opposed to living in water, or sometimes an animal that lives on or near the ground, as opposed to in trees etc.** A fishing fly that simulates the...
life, both past and present, and the
relationship
Relationship
Relationship or relationships may refer to:* Interpersonal relationship* Intimate relationship* In mathematics and statistics:** Binary relation** Causal relationship** Correlation and dependence** Direct relationship** Inverse relationship...
s among living things through time. Relationships are visualized as evolutionary trees (synonyms: cladograms,
phylogenetic tree
Phylogenetic tree
A phylogenetic tree or evolutionary tree is a branching diagram or "tree" showing the inferred evolutionary relationships among various biological species or other entities based upon similarities and differences in their physical and/or genetic characteristics...
s, phylogenies). Phylogenies have two components, branching order (showing group relationships) and branch length (showing amount of evolution). Phylogenetic trees of species and higher taxa are used to study the evolution of traits (e.g., anatomical or molecular characteristics) and the distribution of organisms (
biogeography
Biogeography
Biogeography is the study of the distribution of species , organisms, and ecosystems in space and through geological time. Organisms and biological communities vary in a highly regular fashion along geographic gradients of latitude, elevation, isolation and habitat area...
). Systematics, in other words, is used to understand the evolutionary history of life on Earth.
"Systematic biology" and "taxonomy" (terms that are often confused and used interchangeably) were defined in relationship to one another as follows:

Systematic biology (hereafter called simply systematics) is the field that (a) provides scientific names for organisms, (b) describes them, (c) preserves collections of them, (d) provides classifications for the organisms, keys for their identification, and data on their distributions, (e) investigates their evolutionary histories, and (f) considers their environmental adaptations. This is a field with a long history that in recent years has experienced a notable renaissance, principally with respect to theoretical content. Part of the theoretical material has to do with evolutionary areas (topics e and f above), the rest relates especially to the problem of classification. Taxonomy is that part of Systematics concerned with topics (a) to (d) above.

The term "systematics" is sometimes used synonymously with "
taxonomy
Taxonomy
Taxonomy is the science of identifying and naming species, and arranging them into a classification. The field of taxonomy, sometimes referred to as "biological taxonomy", revolves around the description and use of taxonomic units, known as taxa...
" and may be confused with "scientific classification". However, taxonomy, and in particular
alpha taxonomy
Alpha taxonomy
Alpha taxonomy is the discipline concerned with finding, describing and naming species of living or fossil organisms. This field is supported by institutions holding collections of these organisms, with relevant data, carefully curated: such institutes include natural history museums, herbaria and...
, is more specifically the identification, description, and naming (i.e. nomenclature) of organisms, while "classification" is focused on placing organisms within hierarchical groups that show their relationships to other organisms. All of these biological disciplines can be involved with extinct and extant organisms. However, systematics alone deals specifically with relationships through time, and can be synonymous with phylogenetics, broadly dealing with the inferred hierarchy of organisms.
Systematics uses taxonomy as a primary tool in understanding organisms, as nothing about an organism's relationships with other living things can be understood without it first being properly studied and described in sufficient detail to identify and classify it correctly. Scientific classifications are aids in recording and reporting information to other scientists and to laymen. The
systematist
, a scientist who specializes in systematics, must, therefore, be able to use existing classification systems, or at least know them well enough to skillfully justify not using them.
Phenetic systematics was an attempt to determine the relationships of organisms through a measure of similarity, considering plesiomorphies (ancestral traits) and apomorphies (derived traits) to be equally informative. From the 20th century onwards, it was superseded by
cladistics
Cladistics
Cladistics is a method of classifying species of organisms into groups called clades, which consist of an ancestor organism and all its descendants . For example, birds, dinosaurs, crocodiles, and all descendants of their most recent common ancestor form a clade...
, which considers plesiomorphies to be uninformative for an attempt to resolve the phylogeny of Earth's various organisms through time. Today's systematists generally make extensive use of
molecular biology
Molecular biology
Molecular biology is the branch of biology that deals with the molecular basis of biological activity. This field overlaps with other areas of biology and chemistry, particularly genetics and biochemistry...
and computer programs to study organisms.
Systematics is fundamental to biology because it is the foundation for all studies of organisms, by showing how any organism relates to other living things (ancestor-descendant relationships).
Systematics is also of major importance in understanding conservation issues because it attempts to explain the Earth's biodiversity and could be used to assist in allocating limited means to preserve and protect endangered species, by looking at, for example, the genetic diversity among various taxa of plants or animals and deciding how much of that to preserve.
See also
Cladistics

Cladistics

Cladistics is a method of classifying species of organisms into groups called clades, which consist of an ancestor organism and all its descendants . For example, birds, dinosaurs, crocodiles, and all descendants of their most recent common ancestor form a clade...


- a popular methodology

Methodology

Methodology is generally a guideline for solving a problem, with specificcomponents such as phases, tasks, methods, techniques and tools . It can be defined also as follows:...


in systematics
Phenetics

Phenetics

In biology, phenetics, also known as taximetrics, is an attempt to classify organisms based on overall similarity, usually in morphology or other observable traits, regardless of their phylogeny or evolutionary relation. It is closely related to numerical taxonomy which is concerned with the use of...


- an obsolete methodology, predecessor to cladistics
Phylogeny - what is analyzed in systematics and taxonomy
16S ribosomal RNA

16S ribosomal RNA

16S ribosomal RNA is a component of the 30S subunit of prokaryotic ribosomes. It is approximately 1.5kb in length...


- the most intensively studied nucleic acid in phylogenetics
Phylogenetic comparative methods

Phylogenetic comparative methods

Phylogenetic comparative methods use information on the evolutionary relationships of organisms to compare species...


- use of evolutionary trees to study biodiversity

Biodiversity

Biodiversity is the degree of variation of life forms within a given ecosystem, biome, or an entire planet. Biodiversity is a measure of the health of ecosystems. Biodiversity is in part a function of climate. In terrestrial habitats, tropical regions are typically rich whereas polar regions...


and comparative biology
Scientific classification - the result of research in systematics and taxonomy
Taxonomy

Taxonomy

Taxonomy is the science of identifying and naming species, and arranging them into a classification. The field of taxonomy, sometimes referred to as "biological taxonomy", revolves around the description and use of taxonomic units, known as taxa...


- a branch of the biological sciences related to systematics
Further reading
Schuh, Randall T. and Andrew V. Z. Brower. 2009. Biological Systematics: Principles and Applications, 2nd edn. ISBN 978-0-8014-4799-0
Simpson, Michael G. 2005. Plant Systematics. ISBN 978-0-12-644460-5
External links