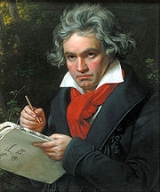 Symphony No. 9 (Beethoven)
The
Symphony No. 9 in D minor, Op.

Opus number

An Opus number , pl. opera and opuses, abbreviated, sing. Op. and pl. Opp. refers to a number generally assigned by composers to an individual composition or set of compositions on publication, to help identify their works...


125
, is the final complete
symphony
Symphony
A symphony is an extended musical composition in Western classical music, scored almost always for orchestra. A symphony usually contains at least one movement or episode composed according to the sonata principle...
of
Ludwig van Beethoven
Ludwig van Beethoven
Ludwig van Beethoven was a German composer and pianist. A crucial figure in the transition between the Classical and Romantic eras in Western art music, he remains one of the most famous and influential composers of all time.Born in Bonn, then the capital of the Electorate of Cologne and part of...
. Completed in 1824, the symphony is one of the best known works of the Western classical repertoire, and has been adapted for use as the European Anthem. It is considered by some critics to be Beethoven's masterpieces and one of the greatest musical compositions ever written.
The symphony was the first example of a major composer using voices in a symphony (thus making it a
choral symphony
Choral symphony
A choral symphony is a musical composition for orchestra, choir, sometimes with solo vocalists, which in its internal workings and overall musical architecture adheres broadly to symphonic musical form. The term "choral symphony" in this context was coined by Hector Berlioz when describing his...
).