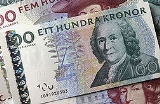 Swedish krona
The
krona
has been the
currency
Currency
In economics, currency refers to a generally accepted medium of exchange. These are usually the coins and banknotes of a particular government, which comprise the physical aspects of a nation's money supply...
of
Sweden
Sweden
Sweden , officially the Kingdom of Sweden , is a Nordic country on the Scandinavian Peninsula in Northern Europe. Sweden borders with Norway and Finland and is connected to Denmark by a bridge-tunnel across the Öresund....
since 1873. Both the ISO code "SEK" and currency sign "kr" are in common use; the former precedes or follows the value, the latter usually follows it, but especially in the past, it sometimes preceded the value. The currency is sometimes referred to as the "Swedish crown" in
English
English language
English is a West Germanic language that arose in the Anglo-Saxon kingdoms of England and spread into what was to become south-east Scotland under the influence of the Anglian medieval kingdom of Northumbria...
(since
krona
literally means
crown
Crown (headgear)
A crown is the traditional symbolic form of headgear worn by a monarch or by a deity, for whom the crown traditionally represents power, legitimacy, immortality, righteousness, victory, triumph, resurrection, honour and glory of life after death. In art, the crown may be shown being offered to...
in
Swedish
Swedish language
Swedish is a North Germanic language, spoken by approximately 10 million people, predominantly in Sweden and parts of Finland, especially along its coast and on the Åland islands. It is largely mutually intelligible with Norwegian and Danish...
). The Swedish krona also circulates in the
Åland Islands
Åland Islands
The Åland Islands form an archipelago in the Baltic Sea. They are situated at the entrance to the Gulf of Bothnia and form an autonomous, demilitarised, monolingually Swedish-speaking region of Finland...
alongside the official
Finnish
Finland
Finland , officially the Republic of Finland, is a Nordic country situated in the Fennoscandian region of Northern Europe. It is bordered by Sweden in the west, Norway in the north and Russia in the east, while Estonia lies to its south across the Gulf of Finland.Around 5.4 million people reside...
currency, the
euro
Euro
The euro is the official currency of the eurozone: 17 of the 27 member states of the European Union. It is also the currency used by the Institutions of the European Union. The eurozone consists of Austria, Belgium, Cyprus, Estonia, Finland, France, Germany, Greece, Ireland, Italy, Luxembourg,...
.
One krona is subdivided into 100
öre
Öre
Öre is the discontinued centesimal subdivision of the Swedish krona. The plural and singular are the same in the indefinite forms, whereas the singular definite form is öret and the plural definite is örena. The name derives from the Latin aureus , the name of a coin worth 25 denarii...
(singular and plural; when referring to the currency unit itself, however, the plural is
ören
).