 Svetlanskaya Street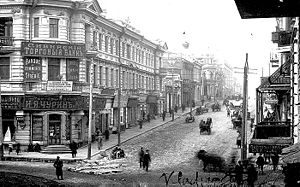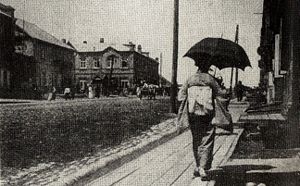 Svetlanskaya Street
is a major street in
Vladivostok
Vladivostok
The city is located in the southern extremity of Muravyov-Amursky Peninsula, which is about 30 km long and approximately 12 km wide.The highest point is Mount Kholodilnik, the height of which is 257 m...
,
Russia
Russia
Russia or , officially known as both Russia and the Russian Federation , is a country in northern Eurasia. It is a federal semi-presidential republic, comprising 83 federal subjects...
.
History
Svetlanskaya Street was originally called
Amerikanskaya Street
, but was renamed in 1873 in honor of the frigate
Svetlana
which brought
Grand Duke Alexei Alexandrovich of Russia
Grand Duke Alexei Alexandrovich of Russia
Grand Duke Alexei Alexandrovich of Russia was the sixth child and the fourth son of Alexander II of Russia and his first wife Maria Alexandrovna . Destined to a naval career, Alexei Alexandrovich started his military training at the age of 7...
to the city for a visit. Most of the wooden buildings erected along the street during the 1860s through the 1880s are no longer standing. Around 1913, there was a great deal of construction around the street; tram service began, and department stores, cinemas,
Lutheran
Lutheranism
Lutheranism is a major branch of Western Christianity that identifies with the theology of Martin Luther, a German reformer. Luther's efforts to reform the theology and practice of the church launched the Protestant Reformation...
and Catholic churches, and a Japanese consulate sprung up. However, there was little new construction along the street during the Soviet period.
The street was renamed
Leninskaya
in Soviet times; the name "Svetlanskaya" was restored in the 1990s.