 Superfire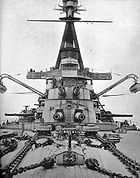 The idea of
superfire
is to locate two turrets in a row, one behind the other, but with the second turret located above (super) the one in front so that the second turret could fire over the first. The configuration also meant that both forward or aft turrets could fire together at all targets in their sectors, rather than only one when the turrets were on the same plane and the target was before or aft of them.
The history of large surface warships follow generic labels as
battleships
Battleship
A battleship is a large armored warship with a main battery consisting of heavy caliber guns. Battleships were larger, better armed and armored than cruisers and destroyers. As the largest armed ships in a fleet, battleships were used to attain command of the sea and represented the apex of a...
, and a furthur distinction between
pre-dreadnought
Pre-dreadnought
Pre-dreadnought battleship is the general term for all of the types of sea-going battleships built between the mid-1890s and 1905. Pre-dreadnoughts replaced the ironclad warships of the 1870s and 1880s...
s,and dreadnoughts. The era of technical evolution occurred roughly from 1900 to 1945. Part of the technical evolution was driven by the need to compress as much large-gun firepower into the smallest space possible. In early designs, the large-caliber turrets were all located on the same plane firing to one side or the other. In firing ahead or to the rear, usually only the forward-most or rearmost turret could fire, especially at low angles.
An early concern was that the pressure and shock from the higher turret would damage the lower one when firing over the top.
United States Navy
United States Navy
The United States Navy is the naval warfare service branch of the United States Armed Forces and one of the seven uniformed services of the United States. The U.S. Navy is the largest in the world; its battle fleet tonnage is greater than that of the next 13 largest navies combined. The U.S...
tests using the
monitor
Monitor (warship)
A monitor was a class of relatively small warship which was neither fast nor strongly armoured but carried disproportionately large guns. They were used by some navies from the 1860s until the end of World War II, and saw their final use by the United States Navy during the Vietnam War.The monitors...
as the testbed, proved that superfiring was safe. The result was the design for the first .
The first ship with superfiring artillery (not of the same caliber, though), was the
French battleship Henri IV
French battleship Henri IV
Henri IV was a pre-dreadnought battleship of the French Navy built to test some of the ideas of the prominent naval architect Louis-Émile Bertin. She began World War I as guardship at Bizerte. She was sent to reinforce the Allied naval force in the Dardanelles campaign of 1915, although some of her...
, launched in 1899.