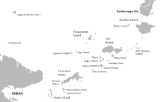 Sulu Archipelago
The
Sulu Archipelago
is a chain of islands in the southwestern
Philippines
Philippines
The Philippines , officially known as the Republic of the Philippines , is a country in Southeast Asia in the western Pacific Ocean. To its north across the Luzon Strait lies Taiwan. West across the South China Sea sits Vietnam...
. This archipelago is considered to be part of the Moroland by the local rebel independence movement. This island group forms the northern limit of the
Celebes Sea
Celebes Sea
The Celebes Sea of the western Pacific Ocean is bordered on the north by the Sulu Archipelago and Sulu Sea and Mindanao Island of the Philippines, on the east by the Sangihe Islands chain, on the south by Sulawesi, and on the west by Kalimantan in Indonesia...
.
The archipelago is not, as is often supposed, the remains of a land bridge between Borneo and the Philippines. Rather, it is the exposed edge of small submarine ridges produced by tectonic tilting of the sea bottom
Basilan
Basilan
The Province of Basilan is an island province of the Philippines within the Autonomous Region in Muslim Mindanao . Basilan is the largest and northernmost of the major islands of the Sulu Archipelago and is located just off the southern coast of Zamboanga Peninsula...
,
Jolo
Jolo
Jolo may refer to:* Jolo Island* Jolo, Sulu* Jolo, West Virginia* Jolo is also the nickname of Swedish author Jan Olof Olsson....
, and other islands in the group are extinct volcanic cones rising from the southernmost ridge.