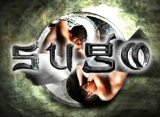 Sugo
Sugo
,
The Chosen One
in
English
English language
English is a West Germanic language that arose in the Anglo-Saxon kingdoms of England and spread into what was to become south-east Scotland under the influence of the Anglian medieval kingdom of Northumbria...
, is a fantasy
Philippine drama
Philippine drama
Philippine drama can be classified into different forms and genres, with the most popular being the teleserye and teledrama. The teleserye/teledrama is a television form of melodramatic serialized fiction. It is rooted from two words: "tele", which is short for "television," and "serye", a Tagalog...
that aired on
GMA Network
GMA Network
GMA Network is a major commercial television & radio network in the Philippines. GMA Network is owned by GMA Network, Inc. a publicly listed company...
from July 2005 to January 2006 starring
Richard Gutierrez
Richard Gutiérrez
Richard Kristian Rama Gutierrez, popularly known as Richard Gutierrez , is a television actor and commercial model who works in Filipino productions.-Biography:Gutierrez is the son of Eduardo P...
.
Plot
Sugo dwells on the topic of good versus evil. The good side is represented by the karag-ayan tribe and the darker side is binhi-lan. The battle between these forces started during the Spanish era when Apo Abucay (Gardo Versoza), a chieftain who wants to gain powers and use it dominate the world, exhanged his soul to the anito (spirit god) but was killed by Conde Vergonze. After his death, his cursed soul remains. Many years after, now set during the 80's, Karag-ayan Amelia (Lorna Tolentino) and the Binhi-lan Rodolfo (Jestoni Alarcon) fell in-love with each other and resulted to the birth of twin brothers. The two, not knowing that the other existed was raised separately, Miguel (the son of light) is kind, good-hearted and lives a modest life, the other is Amante (the seed of darkness) who was raised with hate and rage but with riches and power.
Miguel and Amante (both played by Richard Gutierrez), belonging to opposing tribes, also has opposing tasks to fulfill. It is Amante's task to protect the alay, a female offering whose blood will be used to reincarnate Apo Abucay's body, now a mummy hidden in the depths of a mountain, to reign darkness on earth. While Miguel has the duty to slay the alay in order to stop Apo Abucay's possible return.
The twin's paths crossed when they both fell in love with the same girl, Isabel (Isabel Oli). Not knowing that she is the girl whose blood will be the cause of Apo Abucay's return. This is the start of the conflict between their characters.
Cast and characters
Main Cast
Richard Gutierrez

Richard Gutiérrez

Richard Kristian Rama Gutierrez, popularly known as Richard Gutierrez , is a television actor and commercial model who works in Filipino productions.-Biography:Gutierrez is the son of Eduardo P...


as Amante / Miguel / Conde Vergonze
Chynna Ortaleza

Chynna Ortaleza

Lara Serena Ortaleza , also known as Chynna Ortaleza, is a Filipina actress.She is currently a contract star of GMA Network portraying the role mostly as villain and antagonist.-TV career:...


as Rebecca
Isabel Oli

Isabel Oli

Maria Olivia S. Daytia better known as Isabel Oli is a Filipina model and television and movie actress.-Background:...


as Isabel
Supporting Cast
Karag-ayan
Lorna Tolentino

Lorna Tolentino

Victoria Lorna Aluquin-Fernandez, better known as Lorna Tolentino , is a Filipina actress, host, executive producer and widow of actor Rudy Fernandez. Together, they bore two sons named Ralph and Renz.She was born on December 23, 1961 in Concepcion, Tarlac and later moved to Manila...


as Amelia
Paolo Contis

Paolo Contis

Paolo Enrico Contis , better known as Paolo Contis, is a Filipino-Italian actor who first appeared as a child actor in the ABS-CBN show Ang TV. In 2004 he transferred to GMA Network...


as Adan
Ronaldo Valdez

Ronaldo Valdez

Ronaldo Valdez is a Filipino movie and television actor. Born Ronald James Gibbs in Manila, Philippines, he is the father of actor-singer Janno Gibbs.-Television:* "Glamorosa - Manolo...


as Arando
Boots Anson Roa as Adela
Leo Martinez as Fr. Francis
John Arcilla as Romeo
Joe Chen

Chen Qiao En

Joe Chen Qiao-En is a Taiwanese actress, singer and model. She is the co-leader of Taiwanese group 7 Flowers and is also the first female member of the talent agency Jungiery. Her interest lies mainly in acting and writing and she does well in both fields...


as Mei Li
Binhilan
Gardo Versoza

Gardo Versoza

Gardo Versoza, born Mennen Torres Polintan on November 8, 1969, is a popular Filipino actor who has appeared in over forty movies and dozens of television shows. He started out in roles such as Sabik Sa Halik, Machete II, Halimuyak Ng Babae and Kirot. Later, he went on to star in action movies...


Apo Abukay
Alicia Mayer

Alicia Mayer

Alicia Mayer is a model and actress from the Philippines. She was one of the hosts of the longest noon-time variety show, Eat Bulaga!. She was the Cover Girl of FHM 2003...


as Sontaya
Jestoni Alarcon

Jestoni Alarcon

Jesus Antonio Pineda Alarcon , better known by his stage name Jestoni Alarcon, is a Filipino actor and politician. He was once a Antipolo City Councilor & the vice governor of Rizal Province.-Filmography:...


as Rodolfo
Amy Austria

Amy Austria

Amy Austria-Ventura is a FAMAS and Gawad Urian Award-winning Filipino film and television actress....


as Gracelia
Ariel Rivera

Ariel Rivera

Jose Ariel Jimenez Rivera was born on September 1, 1966 in Manila, Philippines but has since migrated with his family to Canada. Rivera was an architect in Canada before his singing talent was accidentally discovered while vacationing in the Philippines. He has since become a successful...


as Samuel
Teddy Corpuz

Teddy Corpuz

Teddy Corpuz is Filipino singer/vocalist of the band Rocksteddy, TV host and Actor-Early life:He was born Teddy Corpuz on December 4, 1978. He started as an actor comedian in the GMA Network sitcom Idol ko si Kap, had a couple of commercials with Greenwich, and Globe Gentex, and later on became...



Emilio Garcia as Luis
Yayo Aguila

Yayo Aguila

Yayo Aguila is a Filipina actress whose career began through the cult film series Bagets.-Career:...


as Anita
Ramon Christopher as Guillermo
Dion Ignacio

Dion Ignacio

Dion Joseph Ignacio is a Filipino actor. Popularly known of his role as Raul Agoncillo in the afternoon soap opera Saan Darating Ang Umaga, a role originally portrayed by former 1980s teen idol Raymond Lauchengco....


as Dario
LJ Reyes

LJ Reyes

Lourna Jane Pujeda Reyes is a Filipina actress. She was one of the Final Four of the reality TV show StarStruck.-Life and career:...


as Dorina
Mike Tan

Mike Tan

Jan Michael S. Tan, better known by his screen name Mike Tan , is a Filipino actor. He became famous after he became the Ultimate Male Survivor in the second batch of the reality show StarStruck aired on GMA Network...


as Peping
Human
JC de Vera

JC de Vera

John Carlo de Vera, better known by his screen name J.C. de Vera , is a Filipino actor and model.-Biography and career:...


as James
Gabby Eigenmann as Crisanto
Dionne de Guzman as Manang Benilda
Guest cast
Chen Qiao En

Chen Qiao En

Joe Chen Qiao-En is a Taiwanese actress, singer and model. She is the co-leader of Taiwanese group 7 Flowers and is also the first female member of the talent agency Jungiery. Her interest lies mainly in acting and writing and she does well in both fields...



Joanne Quintos
Francine Prieto

Francine Prieto

Francine Prieto born Anna Marie Falcon is a former award-winning child star, a fashion model and movie actress from the Philippines. She is of Filipino and Norwegian descent.-Education:Francine studied B.S...



Ryan Yllana
Bianca King

Bianca King

Bianca Charlotte King is a Filipina-Canadian actress. She is known in her role as Noemi Manansala in the thriller drama series Sinner or Saint aired on GMA, replacing Nita Negrita. She went to San Beda College Alabang during her grade school and high school years. She proceeded to take up AB...



Ruffa Gutierrez

Ruffa Gutiérrez

-External links:**...



Michael De Mesa

Michael de Mesa

-Early life:Born Eduardo Mikael De Mesa Eigenmann on 24 May 1960 to acclaimed performer Eddie Mesa and actress Rosemarie Gil, Michael De Mesa and his siblings Mark Gil and Cherie Gil grew up steeped in the arts...



Elvis Gutierrez
James Blanco
Julianne Lee
T-mur Lane Lee as Enchong