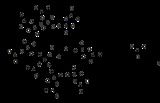 Sucralfate
Sucralfate
is a cytoprotective agent, an oral gastrointestinal
medication
Medication
A pharmaceutical drug, also referred to as medicine, medication or medicament, can be loosely defined as any chemical substance intended for use in the medical diagnosis, cure, treatment, or prevention of disease.- Classification :...
primarily indicated for the treatment of active duodenal ulcers. Brand names include Sucramal in Italy; Carafate in U.S.A.; Pepsigard, Sucral, Sucrafil, Hapifate in India; Sutra or Musin in parts of South-East Asia; Sulcrate in Canada; Ulsanic in South Africa; and Antepsin in Turkey. Sucralfate is also used for the treatment of
gastroesophageal reflux disease
Gastroesophageal reflux disease
Gastroesophageal reflux disease , gastro-oesophageal reflux disease , gastric reflux disease, or acid reflux disease is chronic symptoms or mucosal damage caused by stomach acid coming up from the stomach into the esophagus...
(GERD) and
stress
Stress (medicine)
Stress is a term in psychology and biology, borrowed from physics and engineering and first used in the biological context in the 1930s, which has in more recent decades become commonly used in popular parlance...
ulcers
Peptic ulcer
A peptic ulcer, also known as PUD or peptic ulcer disease, is the most common ulcer of an area of the gastrointestinal tract that is usually acidic and thus extremely painful. It is defined as mucosal erosions equal to or greater than 0.5 cm...
.