 Subligaculum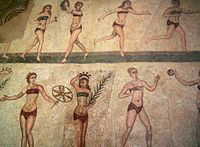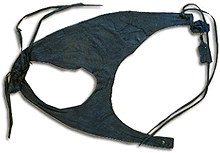 A
subligaculum
was a kind of
undergarment
Undergarment
Undergarments or underwear are clothes worn under other clothes, often next to the skin. They keep outer garments from being soiled by bodily secretions and discharges, shape the body, and provide support for parts of it. In cold weather, long underwear is sometimes worn to provide additional...
worn by
ancient Romans
Ancient Rome
Ancient Rome was a thriving civilization that grew on the Italian Peninsula as early as the 8th century BC. Located along the Mediterranean Sea and centered on the city of Rome, it expanded to one of the largest empires in the ancient world....
. It could come either in the form of a pair of
shorts
Shorts
Shorts are a bifurcated garment worn by both men and women over their pelvic area, circling the waist, and covering the upper part of the legs, sometimes extending down to or even below the knee, but not covering the entire length of the leg. They are called "shorts" because they are a shortened...
, or in the form of a simple
loincloth
Loincloth
A loincloth is a one-piece male garment, sometimes kept in place by a belt, which covers the genitals and, at least partially, the buttocks.-History and types:Loincloths are being and have been worn:*in societies where no other clothing is needed or wanted...
wrapped around the lower body. It could be worn both by men and women. In particular, it was part of the dress of
gladiator
Gladiator
A gladiator was an armed combatant who entertained audiences in the Roman Republic and Roman Empire in violent confrontations with other gladiators, wild animals, and condemned criminals. Some gladiators were volunteers who risked their legal and social standing and their lives by appearing in the...
s, athletes, and of
actor
Actor
An actor is a person who acts in a dramatic production and who works in film, television, theatre, or radio in that capacity...
s on the stage. Leather
subligacula
have been found in excavations of Roman
London
London
London is the capital city of :England and the :United Kingdom, the largest metropolitan area in the United Kingdom, and the largest urban zone in the European Union by most measures. Located on the River Thames, London has been a major settlement for two millennia, its history going back to its...
.