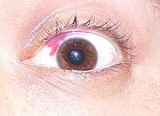 Subconjunctival hemorrhage
A
subconjunctival hemorrhage
(or
subconjunctival haemorrhage
) also known as hyposphagma, is bleeding underneath the
conjunctiva
Conjunctiva
The conjunctiva covers the sclera and lines the inside of the eyelids. It is composed of rare stratified columnar epithelium.-Function:...
. The conjunctiva contains many small, fragile blood vessels that are easily ruptured or broken. When this happens, blood leaks into the space between the conjunctiva and
sclera
Sclera
The sclera , also known as the white or white of the eye, is the opaque , fibrous, protective, outer layer of the eye containing collagen and elastic fiber. In the development of the embryo, the sclera is derived from the neural crest...
.
Whereas a
bruise
Bruise
A bruise, also called a contusion, is a type of relatively minor hematoma of tissue in which capillaries and sometimes venules are damaged by trauma, allowing blood to seep into the surrounding interstitial tissues. Bruises can involve capillaries at the level of skin, subcutaneous tissue, muscle,...
typically appears black or blue underneath the
skin
Human skin
The human skin is the outer covering of the body. In humans, it is the largest organ of the integumentary system. The skin has multiple layers of ectodermal tissue and guards the underlying muscles, bones, ligaments and internal organs. Human skin is similar to that of most other mammals,...
, a subconjunctival hemorrhage initially appears bright-red underneath the transparent conjunctiva. Later, the hemorrhage may spread and become green or yellow, like a bruise. Usually this disappears within 2 weeks.
Although its appearance may be alarming, in general a subconjunctival hemorrhage is a painless and harmless condition; however, it may be associated with high blood pressure,
trauma
Physical trauma
Trauma refers to "a body wound or shock produced by sudden physical injury, as from violence or accident." It can also be described as "a physical wound or injury, such as a fracture or blow." Major trauma can result in secondary complications such as circulatory shock, respiratory failure and death...
to the
eye
Human eye
The human eye is an organ which reacts to light for several purposes. As a conscious sense organ, the eye allows vision. Rod and cone cells in the retina allow conscious light perception and vision including color differentiation and the perception of depth...
, or a base of skull fracture if there is no posterior border of the hemorrhage visible.
Causes
Blood dyscrasia

Dyscrasia

Dyscrasia is a concept from ancient Greek medicine with the word "dyskrasia", meaning bad mixture.The concept of dyscrasia was developed by the ancient Greek physician Galen , who elaborated a model of health and disease as a structure of elements, qualities, humors, organs, and temperaments...



Blood thinners
Diving accidents - Mask squeeze (volume inside in mask creates increased pressure with increased depth)
Severe hypertension

Hypertension

Hypertension or high blood pressure is a cardiac chronic medical condition in which the systemic arterial blood pressure is elevated. What that means is that the heart is having to work harder than it should to pump the blood around the body. Blood pressure involves two measurements, systolic and...



LASIK

LASIK

LASIK or Lasik , commonly referred to simply as laser eye surgery, is a type of refractive surgery for correcting myopia, hyperopia, and astigmatism...



Leptospirosis

Leptospirosis

Leptospirosis is caused by infection with bacteria of the genus Leptospira, and affects humans as well as other mammals, birds, amphibians, and reptiles.The...



Eye trauma
Increased venous pressure
Choking

Choking

Choking is the mechanical obstruction of the flow of air from the environment into the lungs. Choking prevents breathing, and can be partial or complete, with partial choking allowing some, although inadequate, flow of air into the lungs. Prolonged or complete choking results in asphyxia which...



Coughing
Pulling extreme g-forces
Straining

Strain (injury)

A strain is an injury to a muscle or tendon in which the muscle fibres tear as a result of overstretching. A strain is also colloquially known as a pulled muscle...



Strenuous Exercising

Physical exercise

Physical exercise is any bodily activity that enhances or maintains physical fitness and overall health and wellness. It is performed for various reasons including strengthening muscles and the cardiovascular system, honing athletic skills, weight loss or maintenance, as well as for the purpose of...



Touching/widening eyes
Vomiting

Vomiting

Vomiting is the forceful expulsion of the contents of one's stomach through the mouth and sometimes the nose...



Subconjunctival hemorrhages in infants may be associated with
scurvy
Scurvy
Scurvy is a disease resulting from a deficiency of vitamin C, which is required for the synthesis of collagen in humans. The chemical name for vitamin C, ascorbic acid, is derived from the Latin name of scurvy, scorbutus, which also provides the adjective scorbutic...
(a vitamin C deficiency),
abuse
Child abuse
Child abuse is the physical, sexual, emotional mistreatment, or neglect of a child. In the United States, the Centers for Disease Control and Prevention and the Department of Children And Families define child maltreatment as any act or series of acts of commission or omission by a parent or...
or traumatic
asphyxia
Asphyxia
Asphyxia or asphyxiation is a condition of severely deficient supply of oxygen to the body that arises from being unable to breathe normally. An example of asphyxia is choking. Asphyxia causes generalized hypoxia, which primarily affects the tissues and organs...
syndrome.
Treatment and management
A subconjunctival hemorrhage is typically a self-limiting condition that requires no treatment in the absence of infection or significant trauma. The elective use of
aspirin
Aspirin
Aspirin , also known as acetylsalicylic acid , is a salicylate drug, often used as an analgesic to relieve minor aches and pains, as an antipyretic to reduce fever, and as an anti-inflammatory medication. It was discovered by Arthur Eichengrun, a chemist with the German company Bayer...
and NSAIDs is typically discouraged.
A common symptom of a subconjunctival hemorrhage, itchy eyes, is often treated by applying eye drops or artificial tears to the affected eye(s); however, this is discouraged, as it may slow down the healing process.
External links