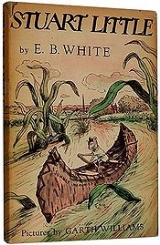 Stuart Little
Stuart Little
is a
1945
1945 in literature
The year 1945 in literature involved some significant events and new books.-Events:*November 1 - The magazine Ebony is published for the first time.*Noel Coward's short play, Still Life, is adapted to become the film, Brief Encounter....
children's novel
Children's literature
Children's literature is for readers and listeners up to about age twelve; it is often defined in four different ways: books written by children, books written for children, books chosen by children, or books chosen for children. It is often illustrated. The term is used in senses which sometimes...
by
E. B. White
E. B. White
Elwyn Brooks White , usually known as E. B. White, was an American writer. A long-time contributor to The New Yorker magazine, he also wrote many famous books for both adults and children, such as the popular Charlotte's Web and Stuart Little, and co-authored a widely used writing guide, The...
, his first book for children, and is widely recognized as a classic in children's literature.
Stuart Little
was illustrated by the subsequently award-winning artist
Garth Williams
Garth Williams
Garth Montgomery Williams was an American artist who came to prominence in the American postwar era as an illustrator of children's books...
, also his first work for children. It is a realistic fantasy about a talking mouse, Stuart Little, born to human parents in
New York
New York
New York is a state in the Northeastern region of the United States. It is the nation's third most populous state. New York is bordered by New Jersey and Pennsylvania to the south, and by Connecticut, Massachusetts and Vermont to the east...
.
Background
In a letter White wrote in response to inquiries from readers, "...many years ago I went to bed one night in a railway sleeping car, and during the night I dreamed about a tiny boy who acted rather like a mouse. That's how the story of Stuart Little got started".
Plot
The story is episodic. First we learn of Stuart's birth and home life. He has an adventure in which he gets caught in a window-blind while exercising, and Snowbell, the family cat, places Stuart's hat and cane outside a mouse hole, panicking the family. He is accidentally released by his brother George. Then two chapters describe Stuart's participation in a boat race in Central Park. A bird named Margalo is adopted by the Little family, and Stuart protects her from their malevolent cat. The bird repays his kindness by saving Stuart when he is trapped in a garbage can and shipped out for disposal at sea.
Margalo flees when she is warned that one of Snowbell's friends intends to eat her, and Stuart strikes out to find her and bring her home. A friendly dentist, who is also the owner of the boat Stuart had raced in
Central Park
Central Park
Central Park is a public park in the center of Manhattan in New York City, United States. The park initially opened in 1857, on of city-owned land. In 1858, Frederick Law Olmsted and Calvert Vaux won a design competition to improve and expand the park with a plan they entitled the Greensward Plan...
, gives him use of a gasoline-powered model car, and Stuart departs to see the country. He works for a while as a substitute teacher and comes to the town of Ames Crossing, where he meets a girl named Harriet Ames who is no taller than he is. They go on one date, and then Stuart leaves town. As the book ends, he has not yet found Margalo, but feels confident he will do so.
Reception
The book was reviewed in the
New York Times
by
Malcolm Cowley
Malcolm Cowley
Malcolm Cowley was an American novelist, poet, literary critic, and journalist.-Early life:...
, who wrote, "Mr. White has a tendency to write amusing scenes instead of telling a story. To say that
Stuart Little
is one of the best children's books published this year is very modest praise for a writer of his talent." The book has become a children's classic, and is widely read by children and used by teachers. White received the
Laura Ingalls Wilder Medal
Laura Ingalls Wilder Medal
The Laura Ingalls Wilder Medal is a prize awarded by the American Library Association to writers or illustrators of children's books published in the United States who have over a period of years made substantial and lasting contributions to children's literature...
in 1970 for
Stuart Little
and
Charlotte's Web
.
Film
The book was loosely adapted into a
1999
1999 in film
The year 1999 in film involved several noteworthy events and has been called "The Year That Changed Movies". Several significant feature films, including Stanley Kubrick's final film Eyes Wide Shut, Pedro Almodóvar's first Oscar-winning film All About My Mother, science fiction The Matrix, Deep...
film of
the same name
Stuart Little (film)
Stuart Little is a 1999 family film. It is loosely based on the novel of the same name by E. B. White. It combines live-action and computer animation. The screenplay was co-written by M. Night Shyamalan and Greg Brooker, with uncredited script doctoring by David O. Russell and Billy Ray...
, which combined live-action with
computer animation
Computer animation
Computer animation is the process used for generating animated images by using computer graphics. The more general term computer generated imagery encompasses both static scenes and dynamic images, while computer animation only refers to moving images....
. A
2002
2002 in film
The year 2002 in film involved some significant events. The first significant releases of sequels took place between The Lord of the Rings: The Two Towers, Harry Potter and the Chamber of Secrets, Star Wars Episode II: Attack of the Clones, Men in Black II, Analyze That, Spy Kids 2: The Island of...
sequel to the first film,
Stuart Little 2
Stuart Little 2
Stuart Little 2 is a 2002 American live action and CGI animated film, directed by Rob Minkoff and starring Geena Davis, Hugh Laurie and Jonathan Lipnicki and the voices of Michael J. Fox, Nathan Lane, Melanie Griffith, James Woods and Steve Zahn. The film is a sequel to the 1999 film and includes...
, was truer to the book. A third film,
Stuart Little 3: Call of the Wild
Stuart Little 3: Call of the Wild
Stuart Little 3: Call of the Wild is a 2006 direct-to-video film directed by Audu Paden, created by Mainframe Animation and distributed by Columbia Pictures. It was released on DVD in other countries in 2005, till it eventually got released in North America on February 21, 2006...
was released
direct-to-video
Direct-to-video
Direct-to-video is a term used to describe a film that has been released to the public on home video formats without being released in film theaters or broadcast on television...
in 2006. This film was entirely computer-animated, and its plot was not derived from the book.
TV
"The World of Stuart Little," a 1966 episode of
NBC
NBC
The National Broadcasting Company is an American commercial broadcasting television network and former radio network headquartered in the GE Building in New York City's Rockefeller Center with additional major offices near Los Angeles and in Chicago...
's
Children's Theater
, narrated by
Johnny Carson
Johnny Carson
John William "Johnny" Carson was an American television host and comedian, known as host of The Tonight Show Starring Johnny Carson for 30 years . Carson received six Emmy Awards including the Governor Award and a 1985 Peabody Award; he was inducted into the Television Academy Hall of Fame in 1987...
, won a
Peabody Award
Peabody Award
The George Foster Peabody Awards recognize distinguished and meritorious public service by radio and television stations, networks, producing organizations and individuals. In 1939, the National Association of Broadcasters formed a committee to recognize outstanding achievement in radio broadcasting...
and was nominated for an Emmy. An animated television series,
Stuart Little: The Animated Series
Stuart Little: The Animated Series
Stuart Little: The Animated Series is an animated television series, loosely based on the E.B. White children's book Stuart Little and more based on Stuart Little 's live-action film adaptations...
, was produced for HBO Family and aired for 13 episodes in 2003.
External links