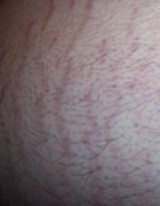 Stretch marks
"Striae" is also a general term referring to thin, narrow grooves or channels, or a thin line or band especially if several of them are parallel or close together.
Stretch marks
or
striae
(
singular
Grammatical number
In linguistics, grammatical number is a grammatical category of nouns, pronouns, and adjective and verb agreement that expresses count distinctions ....
stria
), as they are called in
dermatology
Dermatology
Dermatology is the branch of medicine dealing with the skin and its diseases, a unique specialty with both medical and surgical aspects. A dermatologist takes care of diseases, in the widest sense, and some cosmetic problems of the skin, scalp, hair, and nails....
, are a form of
scar
Scar
Scars are areas of fibrous tissue that replace normal skin after injury. A scar results from the biological process of wound repair in the skin and other tissues of the body. Thus, scarring is a natural part of the healing process. With the exception of very minor lesions, every wound results in...
ring on the
skin
Skin
-Dermis:The dermis is the layer of skin beneath the epidermis that consists of connective tissue and cushions the body from stress and strain. The dermis is tightly connected to the epidermis by a basement membrane. It also harbors many Mechanoreceptors that provide the sense of touch and heat...
with an off-color hue. They are caused by tearing of the
dermis
Dermis
The dermis is a layer of skin between the epidermis and subcutaneous tissues, and is composed of two layers, the papillary and reticular dermis...
, and over time can diminish but not disappear completely.
Stretch marks are often the result of the rapid stretching of the skin associated with rapid growth (common in puberty) or weight gain (e.g. pregnancy, muscle building, or rapid gain of fat) or, in some cases, severe pulling force on skin that overcomes the
dermis
Dermis
The dermis is a layer of skin between the epidermis and subcutaneous tissues, and is composed of two layers, the papillary and reticular dermis...
's elasticity. Stretch marks may also be influenced by hormonal changes associated with puberty, pregnancy, muscle building,
hormone replacement therapy
Hormone replacement therapy
Hormone replacement therapy may refer to:*Hormone replacement therapy *Hormone replacement therapy *Hormone replacement therapy *Androgen replacement therapy -See also:...
for transsexuals, etc.
Medical terminology
Medical terminology
Medical terminology is a vocabulary for accurately describing the human body and associated components, conditions, processes and process in a science-based manner. Some examples are: R.I.C.E., trapezius, and latissimus dorsi. It is to be used in the medical and nursing fields...
for these kinds of markings includes striae atrophicae, vergetures, stria distensae, striae cutis distensae, striae gravidarum (in cases where it is caused by pregnancy), lineae atrophicae, linea albicante, or simply striae.
Symptoms and signs
They first appear as reddish or purple lines, but tend to gradually fade to a lighter range. The affected areas appear empty and are soft to the touch.
Stretch marks occur in the
dermis
Dermis
The dermis is a layer of skin between the epidermis and subcutaneous tissues, and is composed of two layers, the papillary and reticular dermis...
, the resilient middle layer that helps the skin retain its shape. No stretch marks will form as long as there is support within the dermis. Stretching plays more of a role in where the marks occur and in what direction they run. Stretching alone is not the cause.
Stretch marks can appear anywhere on the body, but are most likely to appear in places where larger amounts of
fat
Fat
Fats consist of a wide group of compounds that are generally soluble in organic solvents and generally insoluble in water. Chemically, fats are triglycerides, triesters of glycerol and any of several fatty acids. Fats may be either solid or liquid at room temperature, depending on their structure...
are stored. Most common places are the
abdomen
Abdomen
In vertebrates such as mammals the abdomen constitutes the part of the body between the thorax and pelvis. The region enclosed by the abdomen is termed the abdominal cavity...
(especially near the
navel
Navel
The navel is a scar on the abdomen caused when the umbilical cord is removed from a newborn baby...
),
breast
Breast
The breast is the upper ventral region of the torso of a primate, in left and right sides, which in a female contains the mammary gland that secretes milk used to feed infants.Both men and women develop breasts from the same embryological tissues...
s, upper
arm
Arm
In human anatomy, the arm is the part of the upper limb between the shoulder and the elbow joints. In other animals, the term arm can also be used for analogous structures, such as one of the paired forelimbs of a four-legged animal or the arms of cephalopods...
s, underarms,
back
Back
- People :* Adam Back, British cryptographer* Charles Back, South African winemaker* Chris Back , Australian politician* Ernst Emil Alexander Back , German physicist* Frédéric Back , Canadian animator...
,
thigh
Thigh
In humans the thigh is the area between the pelvis and the knee. Anatomically, it is part of the lower limb.The single bone in the thigh is called the femur...
s (both inner and outer),
hips
Hip (anatomy)
In vertebrate anatomy, hip refer to either an anatomical region or a joint.The hip region is located lateral to the gluteal region , inferior to the iliac crest, and overlying the greater trochanter of the femur, or "thigh bone"...
, and
buttocks
Buttocks
The buttocks are two rounded portions of the anatomy, located on the posterior of the pelvic region of apes and humans, and many other bipeds or quadrupeds, and comprise a layer of fat superimposed on the gluteus maximus and gluteus medius muscles. Physiologically, the buttocks enable weight to...
. They pose no health risk in and of themselves, and do not compromise the body's ability to function normally and repair itself.
Causes
A number of causes promote the appearance of stretchmarks: one study of 324 women just after giving birth demonstrated that low maternal age, high body mass index, weight gain over 15 kg (31 pounds) and higher neonatal birth weight were independently associated with the occurrence of striae. Teenagers are at highest risk of developing severe striae.
The
glucocorticoid
Glucocorticoid
Glucocorticoids are a class of steroid hormones that bind to the glucocorticoid receptor , which is present in almost every vertebrate animal cell...
hormones responsible for the development of stretch marks affect the dermis by preventing the fibroblasts from forming collagen and elastin fibers, necessary to keep rapidly growing skin taut. This creates a lack of supportive material, as the skin is stretched and leads to dermal and epidermal tearing.
Skin subjected to more stretching force than it can handle will tear. Hormonal changes and genetics influence the skin's capacity to withstand stretching forces, as do diet and [possibly] exercise.
Prevention
Between 75% and 90% of women develop stretch marks to some degree during pregnancy. The sustained hormonal levels as a result of pregnancy usually means stretch marks may appear during the sixth or seventh month, primarily during the 3rd trimester, as that is when skin tends to be subjected to higher levels of stretching forces.
A German research team tested the application of massage and cream and found that only one-third of women with this treatment developed stretchmarks, while two-thirds of an untreated control group developed stretchmarks, but it is not clear if this was a double-blind study.
A randomized controlled study tested whether oils or creams prevent the development of stretchmarks. This study found a daily application of a cream containing
Gotu Kola
extract and vitamin E was associated with fewer stretch marks during pregnancy. Another study, though lacking a placebo control, examined a cream (Verum) containing vitamin E, panthenol, hyaluronic acid, elastin and menthol. It was associated with fewer stretch marks during pregnancy versus no treatment. During pregnancy, stretch marks cannot be avoided but if the pregnant woman keeps her skin moisturized, the itchiness can be prevented which causes because of the dry, stretched skin.
Another randomized, placebo-controlled double-blind study of 300 women tested
cocoa butter
Cocoa butter
Cocoa butter, also called theobroma oil, is a pale-yellow, pure edible vegetable fat extracted from the cocoa bean. It is used to make chocolate, biscuits, and baked goods, as well as some pharmaceuticals, ointments, and toiletries...
. The result was not found to be a statistically significant difference.
Removal
Various treatments are available for the purpose of improving the appearance of existing stretch marks, including laser treatments,
dermabrasion
Dermabrasion
Dermabrasion is a surgical procedure that involves the controlled abrasion of the upper layers of the skin with sandpaper or other mechanical means. Nowadays it has become common to use CO2 or Erbium:YAG laser as well. The procedure requires a local anaesthetic...
, and prescription retinoids. Some cream manufacturers claim the best results are achieved on recent stretch marks; however, few studies exist to support these claims.
A study in the journal
Dermatologic Surgery
showed that radiofrequency combined with 585-nm pulsed dye laser treatment gave "good and very good" subjective improvement in stretch marks in 33 of 37 patients, although further studies would be required to follow up on these results. In addition, the use of a pulsed dye laser was shown to increase pigmentation in darker skinned individuals with repeated treatments.
If the epidermis and the dermis has been penetrated, laser will not remove the stretch marks.
A surgical procedure for removing lower abdominal stretch marks is the tummy tuck, which removes the skin below the navel where stretch marks frequently occur.
A new modality, fractional laser resurfacing, offers a novel approach to treating striae. Using scattered pulses of light only a fraction of the scar is zapped by the laser over the course of several treatments. This creates microscopic wounds. The body responds to each treatment by producing new collagen and epithelium. In a 2007 clinical trial, 5-6 treatments resulted in striae improving by as much as 75 percent. A 2007 Brazilian clinical study showed that fractional laser resurfacing improved both texture and appearance of mature, white striae in skin types I-IV.
A recent study of new modality for the treatment of stretch mark published in the Journal of Dermatological Treatment was done on seventeen females with stretch marks that underwent six weekly treatments. Results showed that at one week after the final (sixth) treatment 38.2% and 11.8% of the patients were assessed to have 25-50% and 51-75% improvement in the appearance of their stretch marks, respectively. The long term effect of the treatment was confirmed during the 6 weeks follow up which showed that a higher percentage of the patients were rated to have improvement of their stretch marks, including 26.5% and 5.9% showing 51-75% and >75% improvement, respectively. None of the participants was rated as having no improvement in their clinical appearance of stretch marks. Patient satisfaction was also measured and 65% of patients reported that they were very satisfied with the treatment, 23% were satisfied and 12% were slightly satisfied.